Click on image to enlarge
Make no mistake, the Lotus Turbo Esprit was not just a slightly modified Esprit, nor just an easy and conventional way of gaining incremental sales for Lotus. In the Hethel scheme of things it was very important and technically very significant, if only for the fact that it was chosen to spearhead a new assault on the United States market in 1983. It is tempting to suggest that if only Lotus had been able to give the car a different body style, they would certainly have been justified in giving it an entirely different name as well. Under the skin, which was extensively retouched by Giugiaro, there was a new chassis-frame, new rear suspension, new aerodynamic features and a turbocharged version of the 2.2-litre 16-valve engine, which produced no less than 210bhp. For this amazing car, Lotus claimed a top speed of 152mph —and it meant that they had produced their first true Supercar. By any engineering standards, the Turbo Esprit was, and is, a phenomenal motor car. However, like the original Esprit, it was first shown to the public a long time before deliveries could possibly begin. The occasion of the car's launch was an extravagant party at the Albert Hall, in London, hosted by Team Lotus' Grand Prix sponsors at that time, Essex Petroleum, in which one of the three prototypes was displayed in the dramatic Essex blue, silver and red livery. Although the Turbo Esprit was the first Lotus actually to be exhibited with a 2.2-litre engine, the normally-aspirated version of this unit had already gone into production for the S2.2 models. Even so, because of the rush to show a Turbo Esprit at the Albert Hall, the planned release of non-turbocharged engines was overshadowed for several months.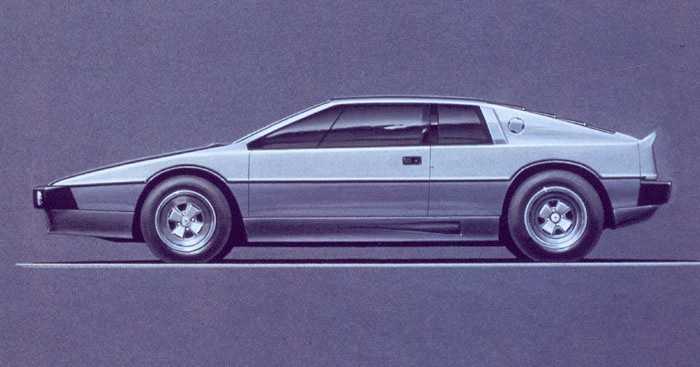 An early rendering of the Lotus Turbo Esprit, with the S2 speedline alloy wheels
Lotus' own press material stresses the scope and nature of the new car's development: '... this new addition to our model range is not an Esprit with a bolt-on Turbo pack, but a fully developed and redesigned motor car in its own right.' So much of the car was new, indeed, that it would probably be easier to list what was not changed, modified or improved. For a start, there was a new design of backbone frame, prepared not only because Lotus wanted to provide an altogether more integrated structure than before, and to accommodate a new rear suspension, but also because they wanted to leave enough space for the still-secret V8 unit to be fitted one day. Lotus made no secret of the existence of a large-capacity V8 engine in their development programme, which explain6 why the engine bay of the new frame was wider and the general layout so much more sturdy.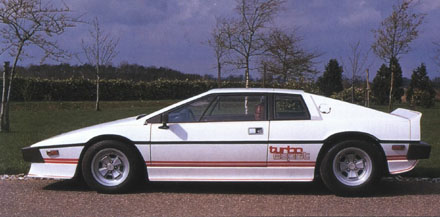 At the front of the car, the independent suspension — now with more Lotus-sourced parts than ever — and rack-and-pinion steering of existing Esprits was retained, but at the rear there was a new layout. Earlier cars had used the simplest possible linkage, in which the fixed-length driveshafts doubled as upper transverse links. The disadvantage of this was that comenng stresses were fed into the final drive housing, found their way to the rest of the engine/transmission assembly and did little to minimize harshness and vibration in the structure. For the new car, there was a new linkage, with a wide-based lower wishbone and an upper transverse link, which allowed the driveshaft to have sliding joints and to carry out only one function; coil spring/damper units, of course, were also retained. Development of the new car began before the end of 1977, and if so much effort had not needed to be diverted into the DeLorean project, it would certainly have been announced months earlier than was the case. Even so, the M72, as the Turbo Esprit was known — M7 1 was the project including the V8 engine, by the way — progressed from 'good idea' to production car in little over two years. Apart from the new chassis and suspension, early decisions had to be made about the body style and the changes to the engine.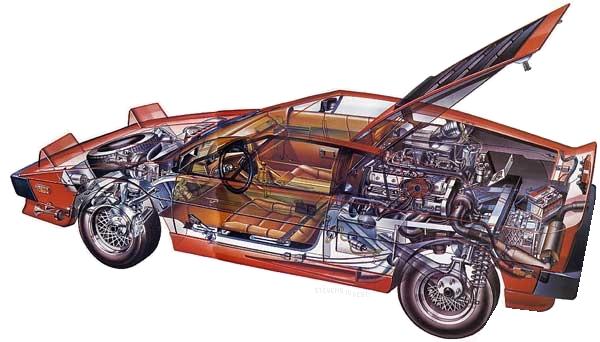 Click on image to enlarge
Compared with the bodyshell on normal Esprits of the period, there were many obvious changes and additions, mostly made for good aerodynamic reasons. The main shape and structure was unchanged, but differences were obvious from all angles. At the front, there was a larger wrap-round bumper allied to a deep new spoiler. There were matching skirts along the sides, under the doors, complete with NACA-type ducts moulded in to direct cooling air towards the engine compartment. At the rear there was a sizeable and completely functional spoiler above the tail-lamps and number-plate, a large bumper matching the front component and extra skirting under the tail. Above the engine bay, instead of glass there was Venetian-blind-style black louvring. In addition, not only to make the styling even more distinctive, but to optimize the roadholding, there were 1 5in diameter alloy road wheels of a new style, with 7in front and 8in rear rims and Goodyear NCT tyres. Most Turbos have been sold on BB's wheels, but a few early cars were supplied with three-piece Compomotive rims instead. To produce the new Type 910 engine Lotus redesigned the Type 907 from end to end, and the final product differs in almost every detail from normally-aspirated Type 911 (Talbot Sunbeam-Lotus) and Type 912 (S2.2 Lotus) units. The finalized engine had its Garrett AiResearch turbocharger mounted above the clutch bellhousing, behind the cylinder block, and boosted inlet air to the Dellorto carburettors to a peak of 8psi above atmospheric pressure. To compensate for this, and to optimize all settings, the nominal compression was reduced to 7.5:1 (from 9.4:1) and there was a different camshaft profile. A feature not always noticed by the pundits was the dry-sump lubrication system.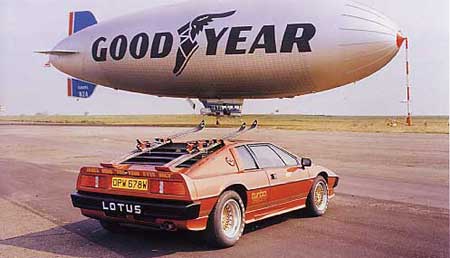 Click on image to enlarge
The result of a great deal of development work was not only a very powerful engine — peak power was 210bhp (DIN) at 6,250rpm and peak torque 2001b.ft at 4,500rpm — but one which was extremely flexible, having mostly 'non-turbo' habits. Its behaviour was so unexpectedly good, for instance, that Motor Sport headlined its test, 'The perfect driving machine?', while Autocar called the very same car a 'paragon of the turbocharged'. To deal with all this power, the only important changes were to the clutch — whose diameter was increased by an inch — and the brakes, which were larger — but not ventilated — at front and rear. Inside the car, it was still the same basic layout as before, with no more space for stowing oddments, cases or especially children(!) though there was a new and plushy type of trim and padding, while the Essex cars were given air conditioning as standard and a complex Panasonic radio cassette player mounted in the centre of the roof panel; unfortunately this was FM (VHF wavelength) only, so was disliked by most customers and was dropped when the Essex Commemorative run was complete. Although the Essex Turbo Esprit, price £20,950, had been announced in February 1980, deliveries did not begin until August that year, immediately after the summer holiday shut-down. However, although development work had been completed to 'Federalize' the sensational engine, the Turbo Esprit, as already explained, was not sent to the United States at this stage. In its first calendar year, 1980, therefore, a total of 57 Turbos were built, of which 44 stayed in the UK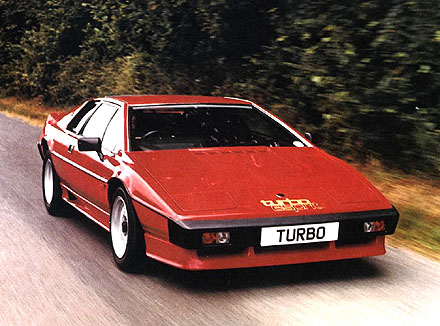 Click on image to enlarge
Apart from the price of the Turbo — which in January 1981 had not changed from the launch figure — another feature which seemed to disturb some potential customers was the flamboyant Essex colour scheme. Very wisely, therefore, Lotus decided to offer a more conventional machine once the intended 100 Essex cars had been built. From April 1981 a Turbo Esprit in conventional colours, but still with all the appropriate body panels and decals, was made available for £16,917, though part of this huge price reduction was due to the fact that air conditioning was now an optional extra. Demand perked up almost at once, and in spite of the generally reduced level of Lotus sales in 1981 and 1982, Turbo production rose to 116 in 1981 and 205 in 1982. In 1982, the Turbo was the fastest-selling Lotus model, backed up by the normally-aspirated Esprit S3, of which 160 cars were built. The glamorous publicity occasioned by the use of Turbo Esprits in the James Bond film For Your Eyes Only did no harm at all! Lotus had had several traumatic experiences in trying to sell and support cars in the United States, but Mike Kimberley thought that a new deal would offer the best of all possible worlds. Before the end of 1982, a new company, Lotus Performance Cars, was set up on the East Coast, headed by John A Spiech, previously General Manager of Ferrari, North America - a 1,000 cars per year operation —and it was suggested that 350 cars would be sold in 1983, with 700 projected for 1986.

Click on image to enlarge
Lotus Esprit S3

Click on image to enlarge
Lotus Turbo Esprit
As Mike Kimberley told me: 'We have a special car for this market, which is really a brand new model, with a new set of body moulds, a lot more space, foot boxes and headroom, and so on. We're going in for the first time ever with a clean market. There hasn't been mid-engined Lotus for sale over there since 1981, and the Turbo was never launched over there, so it's all new. Even though the 1983 Federal Turbo Esprit kept its original project number of M72, it was new or modified in many respects, and factory personnel were very excited about its prospects, especially as the peak power output had needed only minor trimming. Lotus viewed the realignment of £/$ exchange rates as an unqualified bonus for them as exporters. Early in 1983 they were expecting to price their Turbo Esprit at $48,000, compared with the $60,000 asked for the equivalent two-seater Ferrari 308. 'And,' as Kimberley quoted with glee, 'our car will do 0—60mph in 6.5sec in full detoxed trim, whereas that Ferrari takes 8.3sec.' After March 1983, all Turbo Esprits were built with conventional wet-sump engine lubrication. The dry-sumping introduced in 1980 was always agreed to be a real safety-conscious 'belt and braces' job, and prolonged testing convinced the engineers that it was not really needed.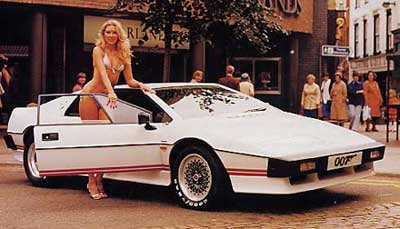 Click on image to enlarge
The success of this car, and the almost universal praise for its engineering, behaviour and detail fittings, all go to prove that at this price a customer is more interested in 'the right specification than in mundane practicality. If he is not in the Turbo Esprit price class, he simply would not appreciate that the extrovert good looks also have a functional effect on the car's aerodynamics, but he would appreciate the intercooling effect of the finned manifolding from turbocharger to carburettor plenum chamber, the remarkable grip and handling and the excellent lie-down driving position. And if he were a Turbo Esprit enthusiast, he would make sure that he never went kerb-hopping to cause punctures anyway. To avoid confusion in future years, the existence of the Bell & Colvill Esprit Turbo must be mentioned at this stage. Bell & Colvill, based at West Horsley, in Surrey, are Lotus dealers, and in 1978 they announced their own privately-financed turbocharged conversion on the basis of the Esprit S2. This car, of course, was the 2-litre model, and the turbocharging layout was entirely different, having been developed by Stuart Mathieson on his own account. In this conversion, priced at £2,000, there was a single and very large SU carburettor upstream of the Garrett AiResearch turbocharger, which fed the fuel-air mixture at a maximum boost of 8psi to the engine, whose nominal compression ratio had been reduced to 7.5:1 by the use of new pistons. Peak power was quoted at 210bhp at 6,000rpm, while peak torque was 2021b.ft.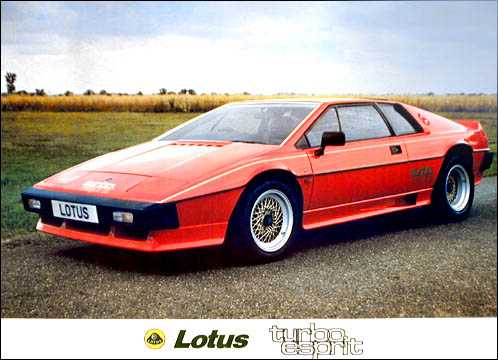 Although it was neither as flexible, nor as refined as the factory Turbo which was to follow, the Bell & Colvill car was undoubtedly very fast, with a claimed top speed of more than 150mph, 0—60mph in 6.2sec and 0—100mph in 17.2sec. The only way that one could identify this car externally was because B & C had added 'turbo' decals to the front and sides of the car, near the factory's own 'Esprit' decals. Esprit Turbo in the mid-Eighties From 1983 to 1986 the Esprit Turbo was virtually buried under the tide of controversy which surrounded Lotus, their finances and their many commercial problems. Somehow, though, customers rose above all this and ordered the car in increased quantities. The Esprit Turbo was Lotus' best seller in each of those years — and in much-modified early-Nineties form it was the only car which kept Lotus afloat. The corporate upheavals have already been summarized in Chapter 3. In the autumn of 1983 the Turbo was modified by being given a rather more spacious boot compartment, but there was also the introduction of an intriguing option, a removable glass panel in the roof. It made a good car even more versatile.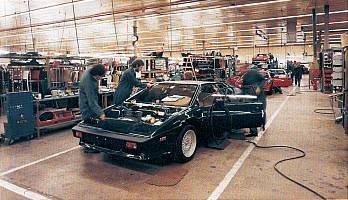 Click on image to enlarge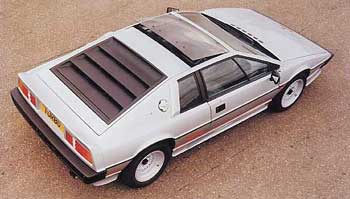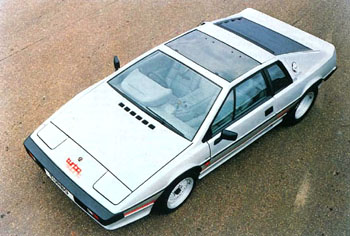 Click on image to enlarge
In 1983, 343 cars were built and no fewer than 418 would follow in 1984. In all this success, the building of Lotus' 30,000th car, in May 1984, passed almost unnoticed. Except that the new eight-year anti-corrosion warranty was applied to the Turbo's chassis from late 1984, there were to be no more significant changes until March 1986. That was the year in which not one, but two powerful new derivatives were launched: one for sale to the USA and other 'strict-emission' markets; the other for sale to the rest of the world.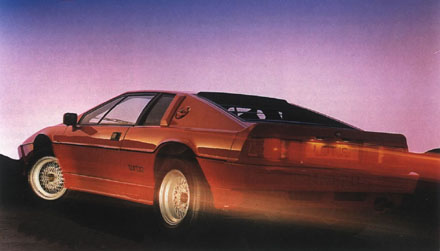 Click on image to enlarge
In March 1986, at the Geneva motor show, the Turbo HCPI (HC = High Compression, with Petrol Injection) was unveiled. The compression ratio had been increased to 8.0:1, maximum boost pressure was up, and not only was this the first Lotus to use injection — the familiar Bosch K-Jetronic layout — but it also had a catalytic converter in the exhaust system. The packaging engineers had done their best to make the cockpit more roomy, for the seats had been widened and lowered, while the footwell area had been enlarged. Not only was the engine more powerful and more torquey than before, but the chassis had been improved with wider-section tyres (195/60s at the front, 235/60s at the rear), while there was a new front spoiler and a larger radiator intake. To drill home the message this car also had HCPI decals. The 'Rest of the World' derivative of this car, titled Esprit Turbo HC, was put on sale in October 1986. It shared the same high-compression head of the HCPI, but retained its Dellorto carburettors and was not fitted with a catalyst. Like changes made to the normally-aspirated Esprit at the same time, the latest HC also had an uprated cooling system and adjustable-rake seats. It was a more expensive car than before - £24,980 in the UK, which was an increase of £l,540 on the original type. Compared with the earlier Turbo there had been a 10 per cent torque increase, which made an immediate and obvious difference to the performance. When Autocar tested the car in 1987, it was summarized as: 'In many areas ... a very practical supercar ... a remarkably satisfying device with which to cover long distances quickly. But with many less expensive sportscars now offering similar performance, the Lotus begins to look a little less attractive than it did three years ago. The same cannot be said for its styling, however, which remains truly exotic.' By that time, however, the original-shape Esprit was only a few months away from the end of its long career, though Lotus managed to keep this secret well hidden until the very last month. In the autumn of 1987 the old car was discontinued and a new-style, more rounded, X180 model took over.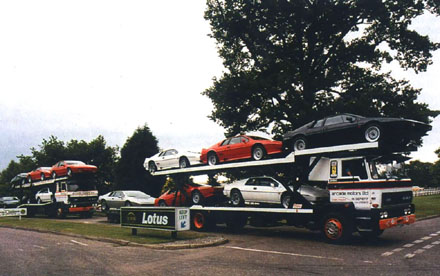 Click on image to enlarge
New Lotus Turbo Esprit's leaving the Hethel Factory on there way to Lotus Dealers
Taken from Lotus Since the 70s by Graham Robson