Ford Mustang Mach 1 1969
To keep my Lotus Esprit company, I have bought a 1969 Ford Mustang Mach 1. I bought this car in March 2017. It is finished in black jade paint and has an original black vinyl interior. The Mustang has a 351W V8 4 barrel, a flow master exhaust system, an Edelbrock Performer carb and new Magnum 500 wheels.
Hi, my name is Mark and this website is a dedicated to my 1969 Ford Mustang Mach 1. I bought this car in March 2017. It is finished in Ford Black Jade paint with black upholstery. The Mustang is a matching numbers car and has a 351 Windsor V8 4 barrel M code as it left the factory. It has been modified with an Edelbrock 1406 Performer carb and a Flowmaster exhaust system.
The car has spent most of it's life in California and was imported to the UK in 2012. Since then it has spent it's time in a heated garage near Glasgow with a careful Owner.
I was told about the car by a Mustang Specialist in Glasgow called Javed. He has many years of experience with classic Mustangs and kindly inspecting the car for me. After a thorough inspection, he described the Mach 1 as an original survivior car and in time warp condition. No rust, original floorpans, original suspension and FMX transmission. He said it looked like the Mustang had only been driven for a few years in the late 60s and early 70s. On his recommendation I bought the car in March 2017. He was spot on, the Mustang was in incredible original condition. Big thanks to Javed!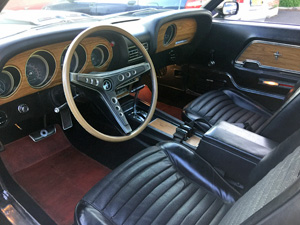 March 2017
The car was issued with a new MOT and I purchased the car.
April 2017
Tornado Automotive in High Wycombe serviced the car. Mike commented about the Mustangs amazing condition.
Since I have owned the car I have added wider 15x8 Magnum 500 wheels on the rear and BF Goodrich 235/60r15s tyres on the front and 255/60r15s on the rear. I have kept the original wheels for originality.
May 2017
The paintwork was looking very flat, as it had oxidised in the Californian sun over many years and lost it's colour and shine.
So I had the paint restored by Hailey Specialist Cars in Shiplake, Oxfordshire. They spent 2 days machine polishing the paint with compound and sympathetically bringing the paint back to life.
I also fitted some period show plates as the original plates didn't look in keeping with the car. I also bought a full set of new black Mustang mats for the car, to protect the original carpet.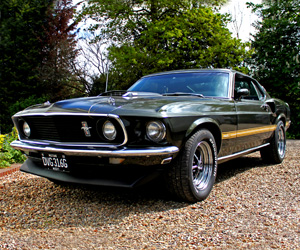 June 2017
I took the Mustang to Tornado Automotive and had a new 14" Edelbroke Air cleaner fitted, with a rocker cover breather fitment. A new distributor cap was fitted as the old one had worn. Mike also fitted a new master cylinder as the old one was leaking and he bled the brakes. He also fitted new spark plugs and did the timing as it was out. The car drives a lot smoother now. The mpg is not so good though, it's doing 6-7 mpg! Need to get that sorted.
July 2017
The low mpg was due to the vacuum advance pipe being disconnected. I connected it and it seems to be getting better mpg now!
August 2017
I had a new fuel line to the carb fitted as the old one decided to burst, leaving a gallon of fuel under the car and a litre of boiling petrol on the inlet manifold! A total nightmare situation! Fortunately I managed to mop up the petrol quickly before anything nasty happened. The fuel line had eroded from the inside out, so was difficult to spot. Watch out for those fuel lines people!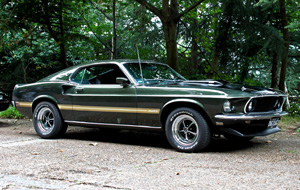 September 2017
I was having starting problems, so I took the car to Tornado Automotive. Mike diagnosied the problem as a wiring issue, the wiring to the ignition had been fitted incorrectly. The car starts first time now.
October 2017
The original radio in my car was working but it couldn't pickup UK radio frequencies. And one of the door speakers was not working either. Even if it did work I wouldn't be able to hear it over the sound of the engine. I thought it was time for an upgrade.
So I bought a Retrosound Hermosa stereo to fit in the existing radio surround. It's a much better quality system than the original Ford unit, it fits perfectly and looks almost identical. It features Bluetooth, USB and a radio. I also bought a pair of top of the range Alpine R-S69's for the rear and Hertz DCX 460.3 for the door speakers.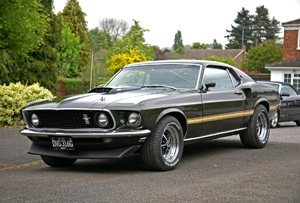 I had a John Kleis Audio, a well established firm in Reading, fit the stereo and speakers, as I wanted it done properly. They spent a day fitting it and creating specially made rear speaker boxes behind the rear seats for the Alpine Speakers. They fitted it in a way so that the original stereo and speakers can be refitted in the future if required.
The new sound stereo system sounds incredible quality and I can hear it very well over the engine too!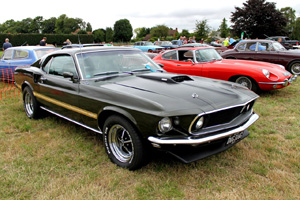 November 2017
Mustang Owners Club of Great Britain magazine published photos of my cars at Silverstone Classic in there Autumn edition
There's me and my old school friend, with his 1970 Mustang fastback. He's fully restored the car at a cost of £30,000!
December 2017
I set about improving the engine bay, as there was surface rust on the tower shock to cowl braces. I removed the braces, then used wet and dry paper to remove the rust and sanded them back to the metal. After that I primered and resprayed the braces in satin black. I then did the same to the left side tower shock.
Also this month there was more fame for my 69 Mustang. Classic American magazine published a photo of my car, from Brooklands American day in September.
January 2018
I purchased an oval air cleaner from Scott Drake and a chrome export brace. They are supposed to improve handling, as they stiffen up the front engine bay. I also bought a dixie air horn, for a bit of fun!
February 2018
I purchased a Scott Drake aluminium reeded oval air cleaner and a pair of Scott Drake Ford 351 aluminium reeded rocker covers. Thought I'd make the engine bay a bit more exciting, as it all looks a bit agricultural under the hood. The old rocker covers had areas of surface on them rust too, so I'll restore them and keep them a stored away incase I want to refit them at a later date.
March 2018
The Mustang was MOTed and passed with no advisories.
The engine bay was looking tired and there was slight corrosion on the rocker covers. So new rocker covers and an export brace was also fitted by Torando Automotive. Mike also fitted a Dixie air horn to the car.
I will keep the original rocker covers and restore them back to their former glory.
June 2018
The power steering hose was replaced as this original rubber hose had perished with age and was leaking.
I took the Mustang to American Speedfest at Brands Hatch, was a great day. The offical photographer took a photo of the car.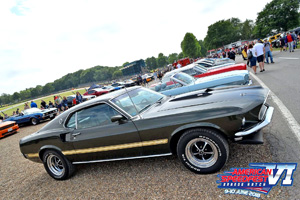 July 2019
The Mustang was taken to Tornado Automotive to have a service. The car's brakes had started to fade so Mike rebuilt all the brakes and fitted a new servo, as the existing one dated back to when the car was new. He also fitted a new proshaft uj and a new alternator as the old one was loosing power. The radiator had started to develop a leak too, to it was removed and sent off to be restored. While this was behined do they refinished it in gloss black paint. New power steering hoses were also fitted, as they old ones were starting to weap slightly. A lot of these jobs were done as the cars was now 50 years old and needing some tlc. All done now and it's driving great!
My previous 1972 Ford Mustang convertible