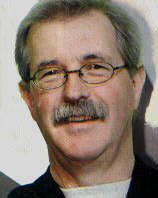 Peter Stevens
Peter Stevens is one of the UKís best-known and well respected international car Designers. He has won numerous honours for his work which includes designing road and race cars for McLaren, Lamborghini, BMW, Lotus, Prodrive, TWR, among others.
Both of his parents were artists, and his uncle, Denis Jenkinson, was the motoring Journalist, who read pace notes alongside Stirling Moss in the Mercedes-Benz 300 SLR that won the 1955 Mille Miglia road race. Growing up surrounded by this eclectic mix of oil paint and oily rags seems to have had a profound effect on Peter. As a sculpture student at St Martin's School of Art he trained under the sculptor Frank Martin and the painter Peter Blake. He followed this up with a Master of Design course at the Royal College of Art. Peter was also one of the first tutors on the course, and has had a long association with the college. Among Peterís best known road and race designs are the McLaren F1 road car, the 1999 Le Mans-winning BMW, the Lotus Elan, the revised Lotus Esprit X180, Jaguarís XJR-15, and the Subaru Impreza P1 road car as well as the world rally series-winning Subaru Impreza WRCs. During his career, Peter has worked with many of the worldís leading transportation companies, including Automobili Lamborghini, BMW, Chrysler, Ford, General Motors, Nissan, Rolls Royce and Subaru. Until April 2005, he was consultant Director of Design for MG Rover. Leading a small team of highly motivated designers at Longbridge since 1999, he had been responsible for revising MG Roverís design direction.
Peter is committed to the idea that designers can work creatively with technology and materials, and he considers car aerodynamics in particular, to be both a science and an art, an essential tool for the designer. Peter has a long association with the Royal College of Artís renowned Vehicle Design course. He was a founder lecturer on the course, and became Visiting Professor in 1999.
Click here to read Stevens discussing the X180 Esprit design with Car Styling Magazine
Click here to reading an interview with Peter Stevens