After years in the doldrums, the Esprit is once again attracting the interest of collectors and enthusiasts. It's exciting and not
expensive but prices are suddenly rising. We ask why that should be, and which models to consider buying
Words: David Lillywhite Studio photography: Simon Clay. October 2007
Porsche 911, Lamborghini Urraco, Ferrari 308, Lotus Esprit. Junior supercars of the 1970s and '80s that are on the up – or, in the case of the pre-1974 Porsches, already flying high. Of all of them, it's arguably the Lotus that currently gives the best combination of dramatic looks, practicality and price. The Esprit has lagged behind its contemporaries in terms of desirability for years, but now the signs are that it's starting to pick up. The heritage is there (over 50 years of it); the modern interest is there, with the company on a high with the evergreen Elise; and the future looks bright, with a new Esprit reckoned to be scheduled for launch in 2009.
Meanwhile, good early Esprits are becoming highly soughtafter. The price guides generally say up to £8000 for a good S1 or S2 but the best are now actually fetching £15,000 or more, with exceptional cars going for double that in extreme cases – early
in December a superbly restored S1 in period-perfect orange went up for sale at £39,950 in the UK, and experts say it's not
unrealistic to expect it to sell for close to that astonishing sum.
So the message is, if you've always hankered after an Esprit, now is the time to put your money where your mouth is. Collectors
are already snapping up the most original S1s, and S2s won't be far behind, with premium prices most likely to be paid according
to originality rather than condition.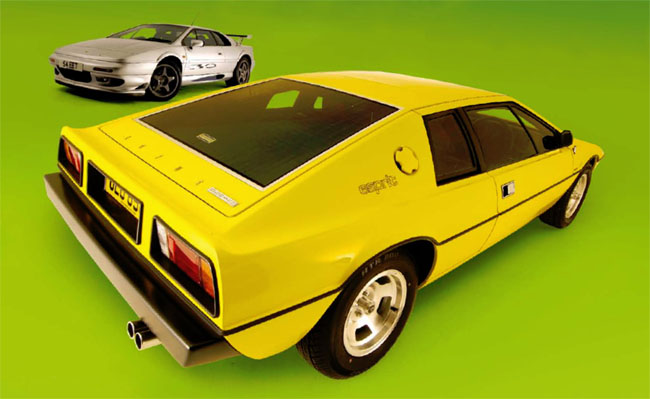 Click on image to enlarge

The early cars aren't stunningly fast and they weren't especially well made, but their sheer impact on the road is almost unbeatable
and for period style – gaudy colours, checked interiors and Wolfrace slot wheels – nothing comes close. The later cars are better built, faster and more rewarding to drive quickly but not as distinctively stylish. But those later cars are also looking strong
when in exceptional condition, with long-time dealers Bell & Colvill reporting the sale of a lowmileage
mid-'80s Turbo for £25,000, for example. None of the Esprit range is especially difficult to look after but they are all needy, requiring conscientious maintenance and the patience of a saint when things go wrong. And the marketplace for the Esprit is daunting, littered with disaster stories and moneypits, as well as the pure gems that you'll love forever.
To understand why, and to work out which model you should buy, you must understand the development of the Esprit. Payattention now: it's complicated but fascinating. You can track the Esprit back to a meeting between Colin Chapman and Giorgetto Giugiaro, then at Ital Design, at the Geneva Motor Show in June 1971. Giugiaro wanted to build a Lotus-based show car to promote his latest ideas, and the plan clearly suited Chapman because just a few weeks later Lotus supplied Ital Design with a modified Europa chassis that was longer and wider than standard.
In fact, the chassis had been altered to accommodate the newly developed Lotus 907 four-cylinder 2-litre engine as part of a grand plan for a range of models based around that engine. Lotus stylist Oliver Winterbottom had already sketched out one of those, a wedgeshaped two-seater coupé.

Click on image to enlarge

The Ital Design show car, though, was in a different league and utterly stunning. It made its debut at the
1972 Turin Motor Show, having been named Esprit by Giugiaro and presented by Chapman as a mere styling exercise on the Europa. Few fell for that claim, though, and it wasn't long before Chapman announced plans to ready a production version for
release in 1974. Heady stuff. Or perhaps it was just foolhardy, because Lotus had a mountain to climb to turn the show car into reality. For production, the team needed to utilise as many parts as possible from the four-seater M50 Elite (which would appear ahead of the Esprit), and where that wasn't possible components would have to be taken from
existing mass-production cars. One of the most obvious areas in which this affected the design was in the rear lights (Fiat X1/9) and the door handles (British Leyland), which lost a bit of the panache of Giugiaro's designs, but remarkably little else changed. Compare show car and production car closely and you'll notice Giugiaro's air intakes behind the rear side windows were deleted for production, only to reappear in slightly less stylish form on the S2 to aid cabin ventilation. If you're really eagle-eyed you'll see that the windscreen on the production car isn't as steeply raked as on the show car, because the latter didn't conform to regulations. To get the required 24-
degree angle without compromising looks too far, Lotus cleverly left the angle of the screen pillars the same, at 19 degrees, but changed the shape and angle of the screen itself.
Just as significantly, the production car has a small trim strip right around its middle. This is where the two halves of the Esprit bodyshell are joined together, and thank goodness that Giugiaro gave the strip an obvious place to sit when he created a handy crease line halfway down the body. What we're seeing here was a major step forward in glassfibre technology at the time. Chapman had bought up a number of boatbuilding companies in the early 1970s, and also started a new research company, Technocraft, based at Lotus HQ in Hethel to develop new methods of construction for boats and cars (and even shower cubicles, baths, coffins and anything else that could feasibly be constructed in glassfibre). The result was VARI, for vacuum-assisted resin injection. Where glassfibre construction had previously relied on laboriously handlaying glassfibre and resin into a mould, VARI allowed a glassfibre and resin mixture to be forced into a mould under pressure to create bodyshells and panels. The rest of the construction was less radical, at least by Lotus standards. The chassis stuck with the tried and tested Lotus construction method pioneered for the original Elan, using sheet metal to create a T-shaped box-section backbone, with the top of the 'T' forming a crossmember to carry the front suspension (conventional twin wishbones and coil-over-damper units). At the rear end of the backbone the metalwork splayed out to cradle the transaxle and engine, with long, angled trailing arms to locate the rear wheels (dubiously aided by the driveshafts, as with the Elan) and typically Lotus long-travel coilover struts. The Europa had used a similar backbone chassis and midengined layout, driving through a Renault transaxle, but the torque of the 907 engine in its planned 160bhp guise would have destroyed that. Instead Lotus homed in on the transaxle used in the front-wheel-drive, Maserati-engined Citroën SM and managed to stick with it way past the early demise of the SM itself. The SM also donated its inboard disc brakes for the rear. Unsurprisingly, though, the self-imposed deadline of a 1974 launch proved impossible to achieve for Lotus, particularly as both the Elite and the Eclat were undergoing final development at the time. A running prototype of the Esprit did emerge in late 1974 but the mid-'70s energy crisis delayed things still further, almost killing off the company, which was forced to make mass redundancies in order to survive. Despite an appearance at the 1975 Paris Salon, Lotus didn't actually have the tooling available to produce the Esprit, and it wasn't until June 1976 that the first customers were able to take delivery of their new car (at £7883, over £2000 more tha advertised at the Paris show).There's no doubt now that even the 1976 delivery came too early, because the Esprit was flawed in a number of areas. Engineering boss Mike Kimberley (recently returned to Lotus as CEO) had warned several years before that the planned development programme was 'too short for a high degree of refinement' and he was proved right when owners and journalists complained about the amount of noise and vibration transmitted through the car. Other faults were more easily solvable but annoying or even dangerous nonetheless – fuelleaks, overheating on California cars and trim that fell off of its own accord did little for the car's reputation.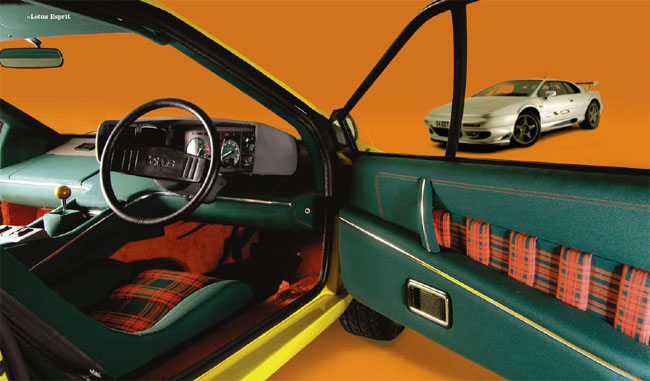 Click on image to enlarge

Even the performance fell short of expectation, but that was partly the fault of Lotus for claiming a top speed of 138mph when the best Autocar, for example, could achieve was 124mph in one admittedly wet-weather test. The crucial North American market had to make do with still less power and a touch more weight, but nonetheless the initial road tests were reasonably kind. Comments such as '…the prime ingredient is handling – this is the reason Lotus owners are willing to live with such things as a lopy [hunting] idle, little luggage space and poor ventilation' from Road & Track were a sign of criticisms to come, though, and when reliability issues raised their head, the comments turned negative. So how did the Esprit survive the subsequent onslaught? Because it was basically an excellent machine, with to-die-for looks and a reputation that went through the roof when Lotus PR man Don McLaughlan managed to persuade Bond film production designer Ken Adam to place 007 in an Esprit for the making of The Spy Who Loved Me. It's no coincidence that sales rocketed in 1977, the year that the film went on general release. As for the faults, some at least were relatively quickly addressed by Lotus, which launched the S2 version of the Esprit in 1978.
By then it was claimed nearly 1000 Esprits had been sold, threequarters of them to the USA. So the S2, with a more torquey engine (thanks to a new camshaft profile), electrically raised instead of vacuum-operated headlamps redesigned instruments, improved ventilation and wider seats, looked set to do well. The obviously add-on front spoiler of the S1, a late addition to reduce front-end lift at high speed, was replaced by a more integrated design and rear lights were switched to Rover SD1 units.
A couple of years later the engine was enlarged to 2.2 litres to create the – wait for it – Esprit S2.2. Meanwhile, from as early as 1978 in fact, Bell & Colvill had been providing their own power boost, with an aftermarket turbo conversion that significantly improved performance despite suffering cooling problems initially. The factory was known to have examined at least one of these conversions and soon went one better – enter the Esprit Turbo, introduced in 1980. This was a major step forward for the Esprit, because the Turbo was much more than a boosted engine. Just as Lotus always bucked sports car trends for rock hard suspension in favour of well-designed set-ups that gave a good ride as well as pin-sharp handling, so it resisted the temptation to bolt on the biggest turbo possible and instead went for a neat Garrett AiResearch unit that caused far less lag than similar units from the likes of BMW and TVR, for example. The result was a tractable engine that pushed power up from 160 to 210bhp, and pushed the new Esprit to 150mph, a real achievement. Giugiaro had been pulled in to restyle the new model, and he neatly blended in spoilers and extra cooling apertures. Under the skin the
chassis had been widened (for future use of a V8 engine), strengthened and galvanised, while the suspension had been revamped to take the strain off the driveshafts, something that had been identified as one of the major causes of the earlier cars' noise and vibration problems. A leather interior added to the new-found occupant comfort levels.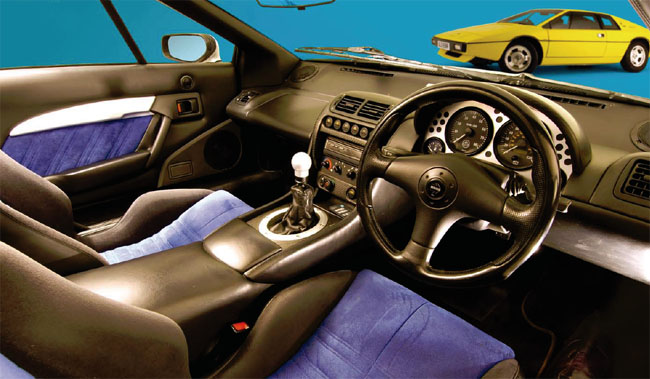 Click on image to enlarge
Car magazine, known for its strong opinions back then, talked of 'its exceptional speed, its unerring precision, its remarkable grip, its immense stability and lovely cornering balance'. High praise. Many of these changes were transferred to the non-Turbo model too, subsequently named the S3, and Lotus seemed to be flying high, with the Turbo heading for the US and an Esprit taking a starring role in another Bond film, For Your Eyes Only. What could possibly go wrong? The death of Lotus founder Colin Chapman in 1982, of course, was what could go wrong. In the years following his shock demise the company's fortunes plummeted, leaving the model range ticking over with little or no development. The one highlight was the introduction of the high compression – HC – model, which usefully increased power to 172bhp for the S3 and 215bhp for the Turbo. Despite ownership changes and financial traumas, Mike Kimberley had stuck it out at Lotus and was painfully aware that the Esprit had begun to look dated; a strange thought now when the clean Giugiaro shape appears classically timeless. But, following a meeting with Giugiaro, a new Lotus concept car, the ambitious Etna, was revealed at the 1984 British Motor Show and widely reported to be either a replacement for the Esprit or even an additional, higher-placed model. Or at least it was until it became clear that there were no finances available. The more sensible option was a revamp of the Esprit. Lotus stylist Peter Stevens brilliantly softened the shape, transforming the exterior and interior with clever tweaks, without having to alter the existing structure. The result was the X180 Esprit, now better known simply as the 'Stevens Esprit', which made its first appearance in 1987. Little was different under the new skin, except for a new five-speed transmission, this time from the Renault 25 (and Alpine GTA). Two years later the Esprit Turbo SE raised the game one more notch with 264bhp and a consequent 0-60mph time of 4.7 seconds. The Esprit had moved into a new league, and it was soon clear that there was no longer a place for normally aspirated models. The four-cylinder Turbo continued to stun, reaching an astonishing 300bhp, until its demise in 1999. Even when the Esprit gained a long-awaited new engine, a 3.3-litre, 32-valve V8 developed by Lotus, turbocharging was a crucial part of the design, and it was with this engine that the Esprit saw out its final years, gaining a bit of power on the way until the final Esprit V8s rolled off the Hethel production line in February 2004. Ever since, there have been stories of the Esprit's imminent return, but finally the rumours appear to be true and we're likely to see a new Esprit in 2009. Industry insiders who've seen the designs report a car that's more than worthy of the name.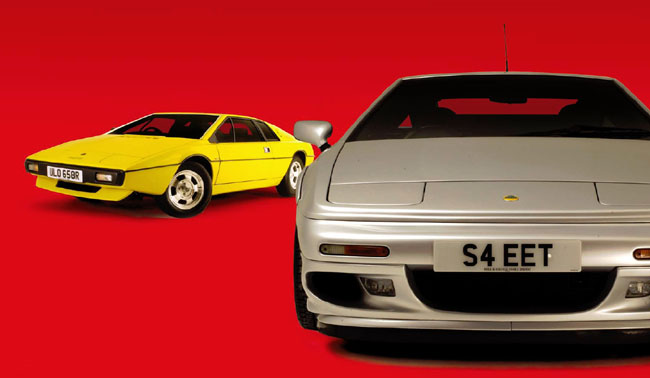 So where does that leave the 'old' Esprit? Well, as we've already said, the S1 is rising, while the S2, 2.2 and S3 should follow on its coat-tails within the next couple of years. For now, all but the very best of the Stevens-styled cars will probably continue to flatline in value and desirability, simply because they still look too modern to appeal to collectors but too dated to compete with more modern offerings. Of all those Stevens models, it's the early Turbos that currently represent the best value – they're fast, fun and relatively well-built. If you're in the market then consider carefully why you want an Esprit. If it's for pure design appreciation then surely it will be hard to consider anything but an S1 with original interior, but for practiciality you're better off with an S3 or later (remember that all-important galvanised chassis, too), and the best of the S3s is the HC Turbo. Don't be fooled into thinking that the ultimate ownership experience will be the V8 either – they're complex and much more expensive to run than a good four-cylinder Esprit. On all cars check electrical, heating and air-con systems, don't under-estimate the possible consequences of seemingly simple component failures (exhaust manifolds and windscreens, as random examples, are notoriously difficult to replace) and look out for blue smoke from Turbo cars – although actually a welllooked after Turbo shouldn't be any trouble. Most of all, though, go for originality over everything else, particularly on a Giugiaro car, and – as ever – buy the best you can afford. Restorations can cost several times the current value of an Esprit and, although parts are available at a price, a comprehensive rebuild is never going to be simple.
So, if you've always lusted after an Esprit, get looking, find a specialist to help you, join the club and buy one of the all-time great supercars. We'd like to think you won't regret it.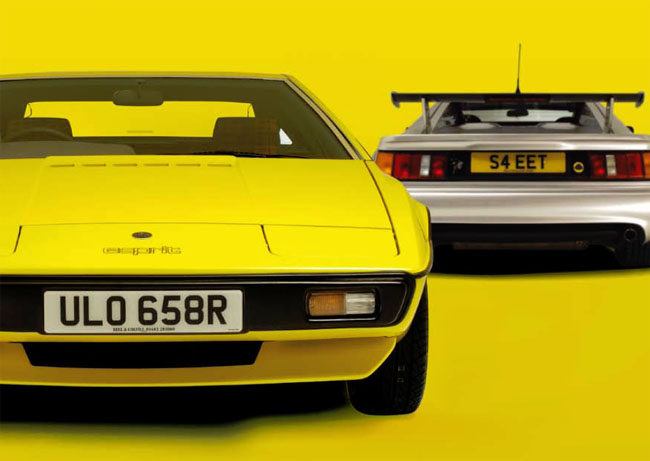 Click on image to enlarge
Thanks to Scott Walker
of Bell & Colvill PLC, www.
bell-colvill.co.uk; Esprit
owners Ken Baird (Sport
350) and Jeff Ippoliti (S1),
www.lotusespritworld;
and Mark Blanchard,
www.lotusespritturbo.com.