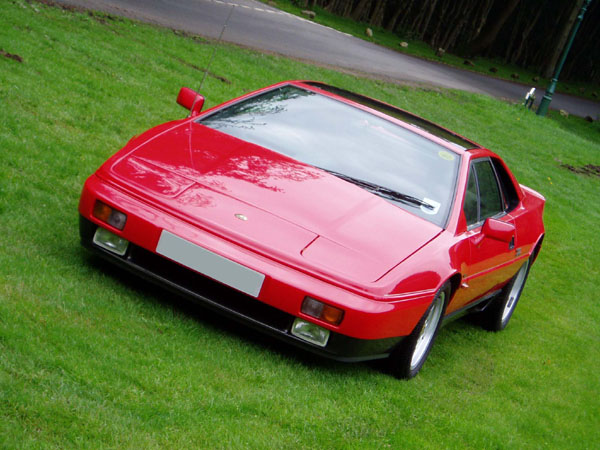 Mark's 1987 Lotus Esprit Turbo X180
My name is Mark Blanchard and I own a Lotus Esprit Turbo X180, I've owned the car since April 2002. It is finished in calypso red with grey leather interior. The car is an early "Stevens" model Esprit Turbo, recognisable by the vulcan grey valance. It was released from the Lotus factory on the 19th December 1987 and first registered in January 1988.
April 2002 work was carried out to the gear linkage. A full C service was carried out by Steve Williams, who also replaced the exhaust box and front off side bearings. He also fixed an oil leak from drive shaft seals and fitted a new clutch slave cylinder fitted.
October 2002 I fitted Turbo SE wheels and Goodyear GS A s tyres all round, which made a marked improvement to the handling and road holding. With the original wheels, the car was under-steering around corners. Also, to improve the interior, I have "Leatheriqued" the grey leather, which prevents it from cracking.
Here's a video of my car
It has been quite reliable so far, other than a small oil leak. This seems to be quite common for Esprit, as the oil leaks from the drive shaft seals. I often have a nagging feeling in the back of my mind something more serious will happen, and I will have to take out another 3 grand loan. So I make sure I drive it regularly (to stop it all ceasing up), and allow plenty of time for the Turbo to warm up and cool down.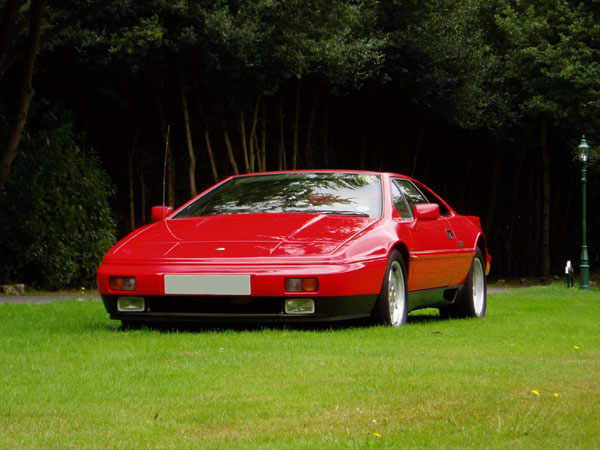 April 2003 An "A" service was carried out by Esprit Engineering. I had a new clutch fitted to the car as the last one was feeling heavy. While this was being done, the red clutch hose was upgraded to an stainless steel braided hose and the clutch slave cylinder was replaced. Welding was also carried out to the chassis, as the chassis strut next to the manifold had rusted. This seems to be a common problem on Esprits, due to the manifold heating up the chassis strut (which is close). Over time the strut's galvanized coating flakes off and rust can build up due to condensation forming in the engine bay. So to get access the the chassis strut, the engine was taken out, the rust was removed and a shaped plate was mig welded over the hole. When this had been done, a heat resistant paint was sprayed over the plate, to protect it from further rust. Click here for a picture of the finished strut: Clicky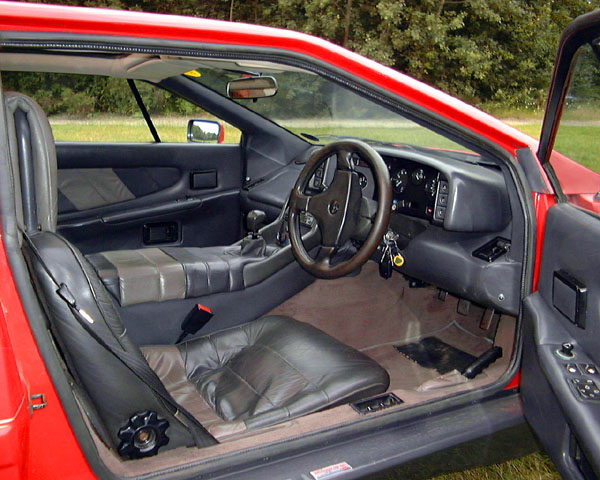 The leather interior
April 2004 A "B" service undertaken by Esprit Engineering. A new windscreen was also fitted, as a stone chip had damaged the old on.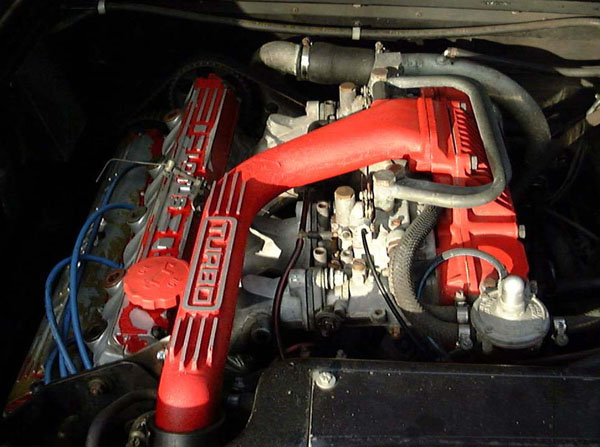 The Lotus Esprit Engine Bay
April 2005 I had the left and right rear shock absorbers replaced and the suspension rebuilt. This was due to a creaking noise from the rear suspension over humps. At the same time I had the cambelt replaced and full C service was carried out. I also had fitted a new aluminium coolant pipe to the radiator. The central connecting pipe, joining the fuel tanks had also rusted and was weeping fuel, causing a strong smell of fuel. So a new pipe was welded to both tanks. Luckily the fuel tanks hadn't rusted. (Rusted fuel tanks are a common problem on Esprit's, due to water leaking through dissintegrated seals on the rear windows. The tanks are protected with foam on the top and bottom. The water drips on to this foam and is soaked up, leaving the steel tanks surrounded by wet foam. The tanks rust, which eventually cause fuel leaks. it is recomended annually to check for rusted tanks. A strong smell of fuel is a sign. However, this can also be atributed to a cracked breather pipe). I also had a new handbrake cable fitted to the Esprit, new rear brake pads and a new steering rack. The existing steering rack was a reconditioned unit and had mechanical wair in it, causing some slack under movement. The new rack has made a big improvement to the feel of the car. I also had a K & N air filter fitted.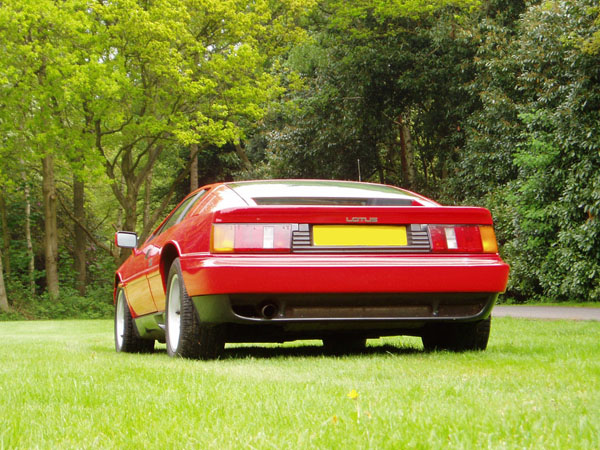 April 2006 my Esprit had an A serviced, carried out by Esprit Engineering as usual. Mobile 1 15/50 engine oil was added, a new Lotus oil filter, the K & N air filter was cleaned and the car was inspected. No real problems this year. Just the rear brake caliper had a new lead mounting fitted and the driver's side light pod was adjusted, as the pod was slightly touching the bodywork.
April 2007 - My Lotus Esprit was given a B service by Esprit Engineering. Also, the left front brake line had delaminated internally, blocking the brake fluid and preventing the caliper from working properly (this was due to old age). A new stainless steel braided brake line was fitted.
May 2008 - A full C Service was carried out by Esprit Engineering, including a new cambelt and new tensioner. The right hand side braided brake line was fitted. Also the copper brake pipe had started to corrode, so a new one was fitted. There was an oil leak from the cam-cover gasket and there was oil in the spark plugs, so a new gasket was fitted. No more oil leaks!
April 2009 - An A Service was carried out by Esprit Engineering. A Stainless Steel Janspeed exhaust box was fitted to the Esprit too, as the baffles in the old Lotus supplied exhaust box were starting to rattle. The cam-covers were shot-blasted and repainted as the red paint was flaking off. They look much better now. Also a new steering rack was fitted.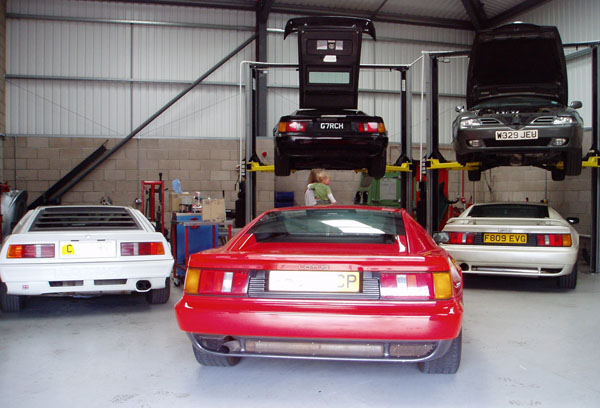 My Lotus at Esprit Engineering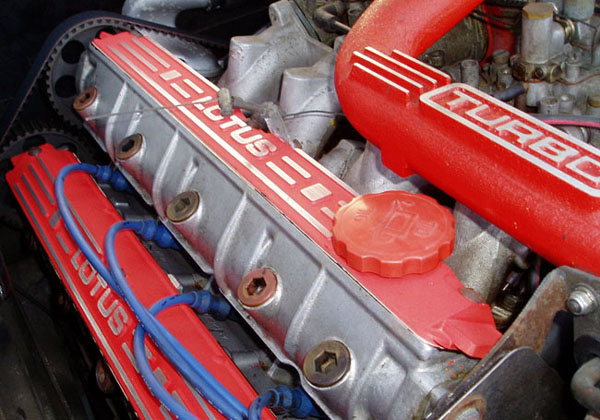 Refurbished Cam Covers
April 2010 - A B Service was carried out by Esprit Engineering. The front springs were beginning to sag due to their old age, so Eibach springs and Esprit S4s dampers were fitted to my Lotus. The ride is much better now. Also a repair was carried out to the underside grp tray, under the radiator, this had been caused by the car grounding on road humps. Tthe radiator support is now firmly fixed to the grp and it's all fixed. Additionally a new Goodyear Eagles GSA tyre (245/50/ZR16) was fitted to the left side rear wheel. A new front near side wheels was fitted to the Esprit, as the old one had a slight buckle in it on the inside. It's improved the ride at high speeds.
Esprit S4s dampers and Eibach springs
June 2010 - My car was resprayed red by Astral Automotive. The original paint was sanded back to the gell coat, preped and masked off, then carefully resprayed. A clear lacquer was used to finished the paint job. The vulcan grey valance was resprayed red to match the 1988 Esprit Turbo model. Here is a step by step guide to the respray: Lotus Esprit Respray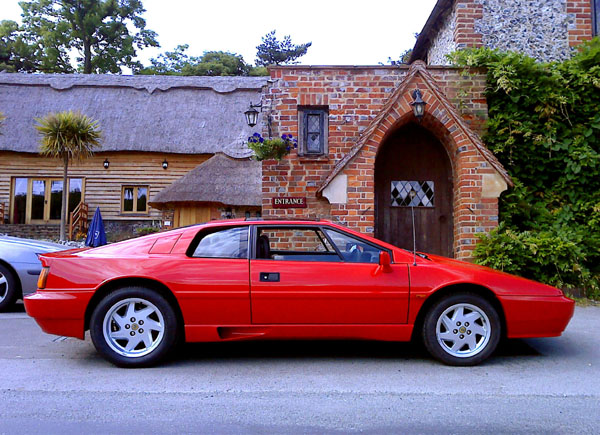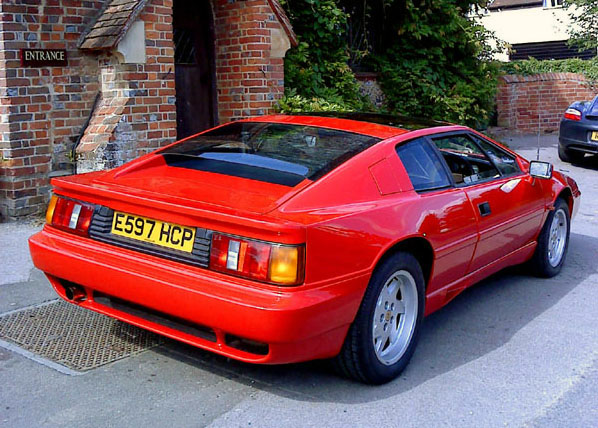 April 2011 - A C Service was carried out by Esprit Engineering. The near side heat shield behind the rear wheel had come slightly loose and was rattling so this was fixed back in place. A new Goodyear Eagles GSA tyre (245/50/ZR16) was fitted to the right side rear wheel.
April 2012 - An A Service was carried out at Esprit Engineering. Mobile 15W 50 is usually put in the engine at the annual service, however this is nolonger available, so Mobile 10W 60 was used instead. It is supposed to be as good. While the car was being serviced, new stainless steel braided rear brake hoses were fitted and I had the rear brake calipers reconditioned and rebuilt. Also the exhaust down pipe had started to corrode so I had a new one fitted. I've owned my Esprit for 10 years now and am still enjoying every minute of it!
April 2013 - A B Service was carried out at Esprit Engineering. The front wheel bearings where replaced on both sides as the drivers side was begining to show the tail tail sign, a low rumbling noise. The speedometer was reconditioned as the needle had developed a fault. This was sent away to a specialist, the mileage was kept and the unit was fixed. Also the drivers side window electric motor was reconditioned as the motor was lifting slowly. Normally slow windows can be helped by lubricating the window guides, but in this instance I did the proper fix.
April 2014 - A C service was carried out by Esprit Engineering, with the usual cambelt change and new tensioner, Mobile oil and coolant change.
April 2015 - An A service was carried out by Esprit Engineering. Mobile 10W 60 was added and a new oil filter as usual. No other issues were found.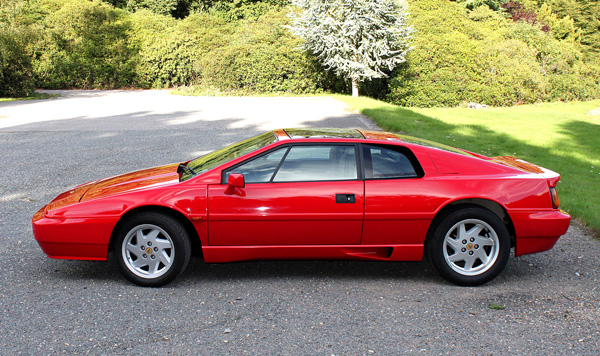 April 2016 - I took my car to Esprit Engineering for it's annual services. Geoff carried out a B service for the Esprit and filled it up with Mobile 1 10/60 and fitted a new Lotus oil filter. He bought a new oil cap for the car and also reattached the rear passenger side heat shield as this had come loose.
April 2017 - A B service and cambelt change were carried out by Esprit Engineering. The new tensioner was fitted too. The fuel pump was also replaced as the old pump was noisy and better to be safe than sorry. I also had the Oz alloy wheels reconditioned and now look like new!
April 2018 - An A service was carried out. I had the front springs replaced with new lower springs, as the Eibach springs were riding too high. Also had the light pods reassembled as they hadn't been installed properly when I had the Lotus resprayed. Esprit Engineering also fitted a new steering U/J, new boot gas struts and new fuel pipe.
April 2021 – A B service was carried out by Esprit Engineering. A couple of O rings were fitted to cure a small oil leak, a refurbished alternator was fitted, the handbrake cable was replaced as one wheel was binding, a faulty electric mirror switch was replaced along with new pedal rubbers and gear stick gator and timing belt and tensioner.