Federal Lotus Turbo Esprit
1983 "Investor's Special Edition"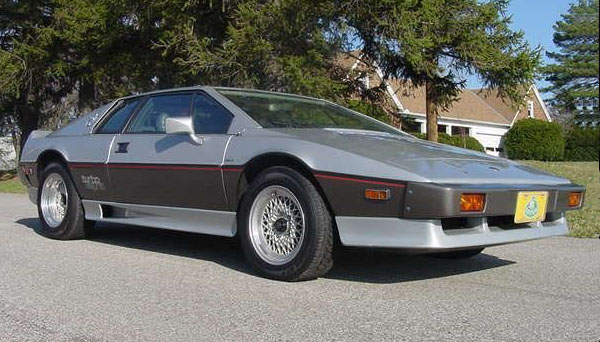 In 1983, after several years of absence, Lotus returned to the US market. A new private Import & Distribution company - Lotus Performance Cars was formed with the help of 50 Investors. The principal investors who enter to a total value of 1,8% (or 150.000 US Dollars) to the capital of the new distributor, Lotus Performance Cars, received the first batch of Lotus Turbo Esprits. They were called the Special Edition, or as they were also know, the "Investors' Edition." A series of 50 cars were manufactured in 1983 to accompany the financial transaction by Lotus. The cars featured specially painted bumpers the same color as the two-tone side body panels and tinted sunroofs (an extra that was not available until 1985) and the engines were balanced and blueprinted. A commemorative plaque " Investor's Special" was screwed to the wheels. 48 of the 50 cars manufactured were sent to the USA. These units were the first build of Turbo Esprit cars for the USA following a period of inactivity in supplying cars to that territory.
Brian Angus, Lotus Cars: The Specification of these cars included such items as Special Body Paintwork, 'Powercurved Engines' and 'Matched Suspension'. The Engines were Run In & Powercurved on the Dyno. This exercise included checking engine ignition & valve timing etc. to ensure optimum performance. Compression & leakage checks to ensure Run In success. The Power figures were recorded and printed out onto a Graph which was supplied with the car. The Suspension components (Springs & Dampers) were checked and matched pairs allocated to the cars. These cars had the following specification:- They were all built to the owners specification which included :- Removable tinted glass roof panel, Individually tested engine with power curve, Individually tested and matched suspension ride control units, Comprehensive security system, Hall marked English silver plaque on the steering wheel personally engraved for the driver. Individually hand sign-written 'Special Edition' insignia and serial number on drivers door External colour scheme and interior trim exclusive to Special Edition (Optional)
Start of the vehicle build on production line was October 1982 and the cars passed to Sales (PTS). The first cars (83 MY) were PTS in February 1983. In August 1983 the first of 50 'Special Edition' Cars was passed to sales.(at this point 105 'Standard' cars had been built). The last of the 50 cars was passed to sales in October 1983.
Thanks to Brian Angus from Lotus Cars for the Information.