Invigorated Esprit
Lotus Turbo Esprit HC

Autocar April 1987
The Esprit Turbo hc now has a higher-compression engine, hence the hc in its name. The result is an extra 5bhp, allied to an extra 20lb ft of torque. Lotus has improved the performance of the Esprit Turbo with the adoption of a high-compression version of the 912s four-cylinder all-alloy power unit. Specific modifications include a revised cylinder head with valve seat throats and sodium-filled exhaust valves.
The camshaft covers have revised fixings, seals and a bigger oil filter cap. Larger Dellorto DHLA 45A carburettors are fitted to increase performance and a balance pipe is added to improve distribution between cylinders. The exhaust manifold casting is also new to help gas flow and forged aluminium Mahle high-compression pistons with Nika-sil-coated aluminium liners add to conductivity and longevity, as well as lowering oil consumption.

The Garrett T3 turbocharger now has a smaller turbine housing to improve low-speed response and as a result of the quicker turbine acceleration, boost pressure is increased from 8 to 9.5psi. The net result of the engine work is a power output up from 210bhp at 6250rpm to 215bhp at 6000rpm. Torque gains are significant too, up from 200lb ft at 4500rmp to 220lb ft at 4350rmp.

The mid-engined, rear-wheel drive configuration remains unchanged and the new Esprit is identified by 'hc' decals on its side – otherwise the car appears almost identical to the previous Turbo we tested in December 1984. On the track the performance improvements are obvious, especially in terms of standing start acceleration. The Turbo hc is significantly quicker from rest to 60 mph with a 5.6secs figure compared with the previous mean of 6.1secs. The 100mph mark now appears in 15.0secs compared with 15.8secs before.
From a driver's point of view such vivid acceleration feels almost effortless; there is one rapid burst of power in first gear as the clutch is dropped at around 4800rpm – peak revs for a combination of maximum grip and momentum – but from there onwards the power is put down in a smooth and progressive surge that does not let up until 7000rpm.

The revised Esprit Turbo hc is not all about straight-line acceleration, though, and despite a slight loss in torque at extremely low revs the engine still retains a tremendous amount of overall flexibility, response and refinement for a turbo four. As the throttle is squeezed, with as little as 1500rpm showing on the rev counter, the engine pulls almost instantly and without compliant. By 2000rpm the engine is boosting more strongly and 500rpm later there is more than enough power for just about any overtaking manoeuvre.

The hc's power curve is very broad to provide flexibility through a larger operating band than before. Bottom end performance, however, has not been maintained at the expense of top end power. The 90-110mph span in fifth gear takes only 8.0secs compared with 8.5secs for its predecessor and the 100-120 stretch is also reduced, in this case from 10.6 to 9.3 secs. The 50-70mph dash, achieved in third gear, now takes just 3.0 secs.

On the high-speed track, the Esprit produced a mean maximum speed of 141mph in fifth gear and showed a best of 146mph with a following wind. The Lotus claim of 150mph may well be attainable on a long, flat stretch of road where tyre scrub is less significant than on a banked bowl.


Maxima in the gears are 41, 62, 91, and 123mph – the rev limiter cuts in just after 7000rpm. The gearchange is rather heavy and strong shove is needed to engage each gear. The down changes can also be a little notchy, perhaps because of the long linkage. Reverse is engaged by lifting the gear lever and slotting it back to the right.
A manual choke is fitted and starting from cold is immediate and driveability good during the short warm-up period. The car felt quite at home in urban traffic and would pull asay from low revs without complaint. The only problem we encountered was a minor hiccough during full throttle acceleration after prolonged round town use.

The 1612 miles of the test included a good mix of A and B roads, plus motoway and more sedate urban motoring. Our previous Esprit Turbo recorded 17.6mpg overall whereas the latest, more powerful, version bettered this figure by a substantial margin to record 20.9mpg. Interim brims ranged between 18.5 and 24.1mpg. There is no obvious explanation for such a significant difference.

The fuel range can be stretched to 300 miles once a driver becomes accustomed to the fuel gauge – a more realistic figure, though, is around the 270-mile mark. The most annoying aspect of both the Esprit Turbo hc and the previous car is refuelling. Unless both fuel filler caps are removed (one is found on each C post) refuelling is painfully slow. With only one cap removed the tank will not accept full pump delivery and with both caps removed care must be taken that fuel does not seep out on the opposite side of the car when trickling in the last few drops. Incidentally, Lotus claims the hc will run on unleaded fuel but points out that 4-star is best.

On a happier note, the Esprit has lost none of its charm when a driver takes the car on a long cross-county trip, where it is possible to maintain high speeds without really trying thanks to the superb chassis and power output. In this sort of situation you tend to forget about the poor rear three-quarter visibility and the low-slung driver position. In fact the latter merely serves to heighten the sensation of speed.

With just 2.8 turns from lock to lock the unassisted rack and pinion steering is ideally geared for a quick response in medium to hig-speed driving. Manoeuvring requires more effort and in town use the heavy steering is a less worthy attribute.


The excellent chassis and careful attention to aerodynamics mean that the Esprit Turbo hc is as sure footed travelling at 100mph as it is at 30mph. Some of the sensation of speed is lost thanks to the above-average (for the class) refinement levels. There's little wind noise, though there is considerable roar from the low-profile tyres. Engine noise is reasonable at high speed but becomes noticeably buzzy at lower velocities.

On dry roads there are always high reserves of grip, body roll is minimal and neither is the car unduly affected by bumps. A driver can pick a line through a bend safe in the knowledge that he can maintain it. Steering loads build nicely in relation to cornering speeds though a driver is often unaware of the high sideways forces as he is lodged securely between the high centre tunnel on one side and the door on the other.

The ultimate handling levels are not easily exploited – at least not in the dry. It is possible to flick the car into oversteer but the natural cornering tendency is neutral. If the throttle is shut mid corner, chances are that the rear will begin to step out of line, but that highly responsive steering means corrections can be made very quickly indeed. Power oversteer is less easy to correct.
Considering the taut suspension and crisp handling, Lotus has done a remarkably good job of ensuring a good standard of rid quality. With such wide footprint tyres to contend with, you might expect some adverse effects in straight stability but that is not the case. Also, over long undulating surfaces the suspension copes remarkably well, soaking up the bumps easily.

For the first time Lotus has fitted seats with adjustable backrests which taller drivers in particular will welcome. The driving position, though, is still not perfect because of the limiting factors dictated by the low-slung shape: headroom could be better and an adjustable steering column would be appreciated by the smaller members of our staff who complained that the wheel was too high.

Apart from the revised seats, and an internal book lock release sited in the driver's door jamb, the rest of the car is familiar Esprit Turbo and that includes electric windows and mirrors and, in the case of the test car, the optional full leather upholstery. Entering and exiting the Esprit is not easy – the wide sills and limited door aperture means that a driver has to try to slip inside while stepping over the lie-flat handbrake and avoiding the low roofline.

The water-valve design heater could be better regulated since there is little throughput of warm air, no matter what the setting. The turn controls for heat, direction and booster fans are also rather awkwardly placed in front of the gear level, forcing the driver to reach round to operate them. Slider controls would be a far better solution.

Oddment space is not generous though the compartment behind the engine, which is opened by pulling the release for the engine cover, is big enough to take a set of golf clubs. In many areas, the Esprit Turbo hc is a very practical supercar, its docile engine and exceptional ride and handling are all very positive attributes. Its low heigh, limited luggage space and still generally cramped driving position are not.

The Lotus ranks as a remarkably satisfying device with which to cover long distances quickly. But with many less expensive sports cars now offering similar performance, the Lotus begins to look a little less attractive than it did three years ago. The same cannot be said for its styling, however, which remains truly exotic.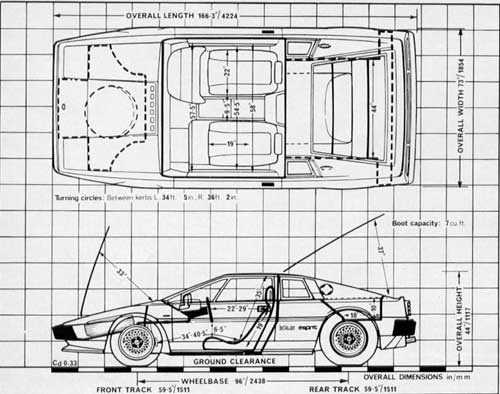 Specification
Engine: Longways, mid, rear-wheel drive. Head/block al. alloy/al. alloy. 4 cylinders in line, wet liners, 5 main bearings. Water cooled, electric fan. Bore 95.29mm (3.75in), stroke 76.20mm (3.00in), capacity 2174cc (132.7 cu in). Valve gear 2 ohc, 4 valves per cylinder, toothed belt camshaft drive. Compression ratio 8.0 to 1. Breakerless ignition, Dellorto DHLA 45M carburettor. Garrett AiResearch T3 Turbocharger, boost pressure 9.5psi. Max power 215bhp (PS-DIN) (160kW ISO) at 6000rpm. Max torque 220lb ft at 4250rpm.
Transmission: 5-speed manual, single dry plate clutch, 9.5in dia.

Suspension: front, independent, double wishbone, coil springs, telescopic dampers, anti-roll bar. rear, independent, uppper and lower transverse link with radius arms, co-axial coil springs, telescopic dampers.
Steering: Rack and pinion. Steering wheell diameter 13.7in, 2.8 turns lock to lock.
Brakes: Dual circuits, split front/rear. Front 10.1in (258mm) dia discs. Rear 10.8in (275mm) dia discs. Vacuum servo. Handbrake, side lever acting on rear discs.
Wheels: Light alloy, F7 and R8 rims. Tyres (Goodyear Eagle on test car), size 195/60VR15 and 235/60VR15, pressures F21 R25 psi (normal driving).
Equipment: Battery 12v, 55Ah. Alternator 70A. Headlamps 110W. Reversing lamp standard. 8 electric fuses. 2-speed plus intermittent screen wipers. Electric screen washer. Water valve interior heater; air conditioning extra. Cloth seats, brushed nylon headlining. Carpet floor covering. Scissor jack; 2 jacking points each side. Laminated windscreen.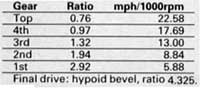 Fuel comsumption: Overall mpg, 20.0 (13.5 litres/100km) 4.5mpl. Grade of fuel, Premium 4-star (96RM) Fuel tank, 18.9 imp galls (86 litres) Mileage recorder, 1.2% long. Oil, (SEA 20W/50) negilgible.

For: Performance, handling, styling
Against: Driving position, luggage space