Lotus Esprit Concept Car
Click on image to enlarge
Styled by Peter Stevens in 1986 as a design option for the forthcoming rebodied Esprit, this full scale concept car was formed in glassfibre from a clay buck and partly incorporated a chassis. Purely a styling exercise model, it was completed over spring / summer of 1986 prior to the launch the following year of the X180 Esprit.
The latter, code-named X180 and also designed by Stevens, was distinguished by stunning, completely new, more rounded and softer coachwork than the Giugiaro styled, sharp–edged original, and offered much more interior space while retaining the same basic Esprit mechanical components and dimensions; in comparison this styling exercise featured more extreme styling changes, such as a significantly different glasshouse area and roof treatment. The car was based on a Federal chassis, with no engine, gearbox or interior.
The need to divert a large majority of Lotus' resources into the forthcoming front wheel drive Elan, however, again designed by Stevens, ensured that the project – which, incidentally, had begun after the takeover of Lotus by General Motors in January 1986 – remained still-born.
The Esprit Concept Car subsequently languished in a lonely corner of a workshop. Quite why the car bears a 300 motif on the passenger door, incidentally, is a mystery and has no connection with this concept car, or the Esprit Sport 300 launched some years later.

Thanks to Brian Angus from Lotus Cars for this information.

Peter Stevens' rendering of the car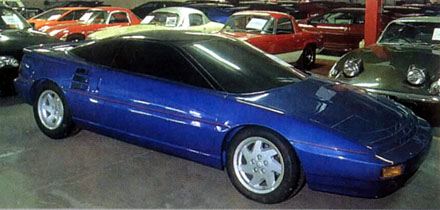 The Lotus Esprit Federal Concept car at the Lotus Factory
There is some literary evidence that the car was intended to tap into the US market, as a budget entry Esprit and it was to featured a 2.3 Quad 4 General Motors engine, with 180 bhp, however Brian Angus new nothing of this.