Lotus' Own Powerplant
The development of the Lotus 900 series engine
Before Lotus could embark on an ambitious new model programme it needed a new engine, a fact realised as far back as 1964, just two years after the twin-cam Lotus-Ford engine was launched.
A further 24 months passed before it was decided that the new Lotus powerplant would be a 150bhp, two-litre, four-valves per cylinder design developed, under the guidance of Steve Sanville, head of Lotus' powertrain development. Lotus' decision to go ahead and produce its own engine — thereby freeing itself of its dependence on Ford —coincided with Coventry Climax withdrawal from motor racing allowing Chapman to quickly snap up one of their leading engineers, Ron Burr, who had worked on the four-valve-per-cylinder Coventry Climax FWMV racing engine and the aborted flat-I 6 Fl engine.
Lotus had given some thought to producing a BRM-designed 24-valve V6, but this was discarded when it became apparent that a 120 degree engine would have been too wide for the traditional Lotus chassis and a 60 degree design too high for the low profile bonnets Chapman envisaged. Lotus settled on a two-litre, 24-valve slant-four — mounted at 45 degrees — which could be doubled up to a 4.2-litre V8 for possible use at Indianapolis and as a road-going engine. As the engine was intended for both road and competition, it embodied the latest technology; aluminium block and head with removable wet cylinder liners, twin belt-driven overhead camshafts, an oversquare (95.25mm x 69.85mm) bore and stroke and a target output of 150Bhp.
At the 1967 Earls Court Motor Show, Vauxhall unveiled its new slant-four engine, whose bore centres were, remarkably, exactly the same as those proposed by Lotus. Chapman immediately negotiated a deal with Vauxhall — ironically owned by GM, who would later buy Group Lotus —to buy some of their cast-iron blocks so that development of Lotus' own aluminium cylinder head could be speeded up.
When first conceived, the new slant four was supposed to be the basis of an entire family of Lotus competition and road engines: Type 904: 2-litre iron block race engine. Type 905: 2-litre iron block road engine. Type 906: 2-litre sand-cast alloy block race engine. Type 907: 2-litre die-cast alloy block road engine. Type 908: 4-litre V8 alloy block race engine. Type 909: 4-litre V8 alloy block road engine.
By 1968 the first of these hybrid Type 904 engines — designated by the marketing department as the LV220 for Lotus Vauxhall 220bhp — fitted with Tecalemit-Jackson mechanical fuel injection was up and running in the Lotus 62 sports-racing cars.
A year later, now with Tony Rudd responsible for putting the engine into production, prototype 147bhp Type 905s were put through reliability trials in a Vauxhall Viva GT and a Bedford CF van. This was quickly followed by the Type 906 which, effectively, put an end to the Lotus Vauxhall hybrids.
The development programme went through so smoothly that by 1970 the engine was completed and ready for a car. Lotus invested £550,000 in machine tooling for the new engine and desperately needed to recoup that money, but with its new model programme still someway in the distance, and the Europa and Elan too small for the new power unit, it would be nearly two years before the Type 907 engine appeared in a production car and, even then, it wouldn't be a Lotus. When the BMC and Leyland empires merged under the leadership of Sir Donald Stokes there were casualties, one of the most famous being the big Austin-Healey 3000 sports car. Determined to continue the Healey heritage Donald Healey and his son, Geoffrey, proposed to Californian entrepreneur and former Healey dealer, Kjell Qvale that they should team up and produce a new Healey sports car.
By 1968 the project was well underway and Hugo Pole penned a two-seater, later modified by Bill Towns, based round Vauxhall Viva GT running gear. Two years later Qvale bought the insolvent Jensen Motors, made Donald Healey its chairman and told Jensen's chief engineer, Kevin Beattie, to get the Jensen-Healey into production. One of the first snags they ran into was the Viva engine's lack of suitability caused by the increasingly stringent US exhaust regulations which would have sapped the Vauxhall engine of any useful power.
Despite the obvious Lotus Vauxhall link, it was Chapman who made the first approach to Qvale offering 60 engines a week, well short of Jensen's 200 cars a week production target. Undaunted at having been rejected, Chapman approached Jensen a second time when it became obvious that Lotus' new GT wasn't nearly ready. So it was that in October, 1971 Jensen announced it would be taking up to 15,000 (!) engines a year from Lotus.
In Jensen trim, the 907 sported twin Dellortos — US cars had horizontal Zenith Strombergs — and produced 140Bhp. The engines weren't without their problems due to oil collecting around the valve gear so it didn't drain back to the oil pump quickly enough. The Lotus Elite eventually went into production in Spring 1974, powered by a 155bhp version of the 907, the extra power coming from larger, 38mm choke, Dellorto carburetters. Those cars destined for the USA had I 40bhp engines with a lower compression ratio — 8.4 against 9.5:1 — and twin Strombergs mounted on a water-heated manifold.
Two years of infield service resulted in a number of changes to the 907 in an effort to improve reliability, although Autocar still thought the four-cylinder was "r6ugh at top end". Motor attributed the 907's early problems to development work which was carried out on sand-cast prototypes rather than die-cast production units. Amongst the difficulties Jensen owners experienced with their Lotus power-plants were distorted cylinder liners and pistons which had a tendency to 'pick up', while Lotus improved engine cooling by 10 degrees centigrade by fitting a skeleton-type toothed belt guide at the front of the engine.
The mid-seventies were turbulent times, not only in the UK with strikes and a three-day week, but also in the Middle East where the after-effects of the Arab-Israeli war of 1973 would have dire effects on the world's motor industry. Suddenly petrol was being restricted to the Western nations by Arabian countries, who realised they had a means of holding the West to ransom. (A mite simplified, granted.) Petrol prices soared; Jensen collapsed in 1976. With it went Lotus' engine contract.
Things were no better at Hethel, so there must have been a collective sigh of relief when Chrysler UK contacted Lotus in 1978 about signing an engine deal for a new rally car. At the time, Ford's Escort RS, with its 240-250bhp two-litre twin-cam, was the all-conquering rally car and Des O'Dell, Chrysler's competition director, was determined to knock the RS off its pedestal. Although Chrysler had an ideal car in the three-door Sunbeam hatchback, it lacked an engine and indeed, the time, money and facilities to develop one. It quickly dawned on O'Dell that the Lotus unit would fit the bill nicely.
One that never made it. Lotus helped Chrysler — later Talbot — to develop a rally homologation special based on the Sunbeam three-door with the new 2.2-litre engine crammed under the bonnet So successful was this car that the brilliant young Finnish rally driver, Henri Toivonen, won the 1980 RAC Rally in one and the following year the Talbot factory team won the World Rally Championship for Makes. Shades of Lotus Cortina development all over again. This is just a publicity shot of an Essex-painted Sunbeam-Lotus. (Focalpoint)
A rally-tuned Lotus engine and five-speed ZF gearbox were engineered into a prototype Sunbeam which, after some tuning and testing, went on to gain second place in that year's Mille Piste rally with Tony Pond at the wheel. Encouraged by this result Chrysler gave the go-ahead for 400 Sunbeam-Lotuses to be built for homologation. However, the dealers had different ideas and such was their collective enthusiasm that plans were laid to build 4500.
Prior to the car's launch in March 1979, Chrysler had sold its ailing UK operation to the French Peugeot-Citroen group so the new rally weapon was rechristened Talbot Sunbeam-Lotus.
Happy as he was with the engine's performance, O'Dell demanded more torque and persuaded Lotus to take the engine capacity out to 2.2 litres by increasing the stroke to 76.2mm. Concerned that this would set up bad vibrations, Tony Rudd developed a flexible flywheel which dampened out the problem and allowed the engine — re-designated Type 911— to produce 150bhp at 5,750rpm and ISO lbs/ft torque at 4,500rpm. In rallying trim the 2.2 produced 250bhp, sufficient for Henri Toivonen to win the 1980 RAC Rally with team mates Guy Frequelin and Russel Brookes third and fourth, respectively. But this was just a prelude of things to come: in the following year works Sunbeam-Lotus won the Argentine Rally and came second on the Monte Carlo, Portugal, Corsica, Brazil and San Remo events, sufficient for them to win the prestigious Championship of Makes and for Frequelin to finish as runner-up in the Drivers, series.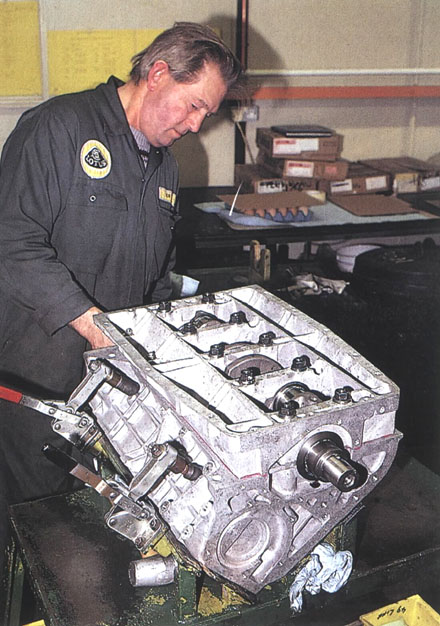 All 2.2 litre Lotus engines are assembled on site at Hethel
Despite all this success only 2,298 Sunbeam-Lotus were sold between 1979 and 1981, half the number originally envisaged. The Type 912 2.2-litre Lotus used in its own cars from 1980 onwards differs from the rallying version in having, amongst other things, a redesigned sump and main bearing panel; it also produced 160bhp at 6,500rpm and 160 lbs/ft torque at 5,000rpm.
If there is one engine that means 'Lotus' as much as an air-cooled flat six is a 'Porsche', it's the Type 910 turbo, nowadays the only engine Hethel builds. The Esprit with its aggressive Giugiaro styling always deserved more than 160bhp and while many at Lotus fought for the Type 908 four-litre V8, this project was abandoned after a Lotus Engineering client pulled out of a deal to buy sufficient engines to make manufacturing economically viable. Turbo-charging, which was rapidly becoming fashionable in 1980, seemed the way to go, but only if Lotus could conquer the dreaded turbo-lag problem which cursed blown engines at that time.
The Type 910 isn't just a normally-aspirated engine with a turbo bolted on the side, it is a fully re-engineered power unit that has been progressively developed into one of the world's great turbo-charged engines.
Throughout its life, the Excel's engine remained carburetted. There was much talk of fuel-injection, but it was felt that too much development time would have to be spent on then updating the chassis and interior to warrant the expenditure. Anyway, a 2+2 version of the Elan was envisaged to take over from the Excel. (I Adcock, Car courtesy of London Lotus Centre)
Although based on the 2.2-litre 907 there are a number of significant changes: lowering the compression ratio to 7.5:1 from 9.5:1 was a major step towards improved throttle response, but also entailed designing new forged pistons while new camshaft profiles opened the valves further and longer. Inlet valves were sodium filled, the valve seats hardened, cylinder head water passages enlarged and a bigger water pump installed to help reduce temperatures. The integrated main bearing panel was also strengthened and to ensure there was adequate oil supply a dry sump system with a separate oil tank, an additional scavenge pump and an oil-cooler installed. (This system lasted until March 1983, when the Turbo Esprit inherited the radial sump baffle system originally designed for the stillborn V8).
A single Garret AiResearch T3 turbo supplied eight pounds of boost to the pressurised Dellorto 40 DHLA twin-venturi side draught carburettors. Never ones to conform, the Lotus turbo system blew rather than sucked air through the carburettors which meant special seals for the throttle spindles to prevent the petrol/air mixture escaping.
Unconventional the Turbo Esprit's powerplant might have been, but you couldn't argue about its effectiveness: 210bhp at 6,500rpm and 200 lbs/ft torque at 4,250rpm, enough to slingshot Motor's road testers from 0-60mph in 5.6 secs and on to a 140+mph maximum, though the latter was somewhat down on Lotus' optimistically-claimed 150+ top speed. The turbo engine remained unchanged until early 1987 when the HC version debuted with its compression raised to 8.0:1 and boost increased to 9.5 psi. Those changes — together with bigger Dellorto 45M DHLA carburettors, a smaller turbine for better low-speed response, a balance pipe for more even mixture distribution, enlarged exhaust and inlet valve passages and more efficient oil and water cooling systems — added a further 5bhp at 6,000rpm and, more significantly, an additional 20 lbs of torque at the same 4,250rpm engine speed. On the test track this lopped a fifth of a second off Motor's 0-60mph time, though the HC's maximum speed was still 6mph shy of the magic ISO.
The still controversial DeLorean DMCI 2; the rear-engined, gull-winged coupe which Lotus spent two years developing for John DeLorean between 1978 and 1980. Production lasted from December 1980 through to October 1982 when the receivers were called in. More than a decade later, the financial shenanigans involving DeLorean, Cohn Chapman and Fred Bushell (Chapman's right-hand man ever since the days at Hornsey), and others has never been satisfactorily resolved
For 1987 Lotus concentrated on developing the car's looks and handling rather than its performance, nevertheless the blown four got a watercooled turbocharger and an integral, rather than separate, wastegate although neither improvements affected the bhp and torque delivered. The normally-aspirated engine — Type 91 2S — also got a power hike to 172bhp and 163 lbs/ft thanks to a 10.9:1 compression ratio and a pair of Dellorto DHLA 45 D carbs.
At this time the search for ultimate power didn't force the pace of Lotus' engine development, but rather a determination to maintain power outputs in the face of increasingly stringent emission and fuel consumption regulations from the USA, which was becoming a vital market for Lotus sales.
GM'S takeover of Lotus in 1986 gave the engineers at Hethel access to possibly the world's largest parts bin — suddenly there was scope to purchase and use sophisticated engine management systems and the like at attractive prices. In the past Lotus' small production numbers meant that original equipment suppliers were reluctant to provide Lotus with the components at realistic costs.
To meet the US 'Federal' regulations the Esprit Turbo had to go fuel-injected and, thanks to a multi-point system from GM subsidiary, AC Delco, Lotus were able to meet the exhaust and fuel consumption regulations at a lower cost than the previously used Bosch K-Jetronic system.
Ironically, the US-specification cars produced more power — 228bhp at 6,000rpm — and torque, 218 lbs/ft at 4,000rpm, than either European or UK cars. Although both markets eventually inherited this system when the non-turbo, carburetted, Esprit was discontinued from the model lineup. Using an advanced MPFI and engine management system opened up tremendous possibilities for Hethel's engine boffins — the pursuit of raw power for power's sake was now on.

In May, 1989 the Esprit Turbo SE debuted with some startling figures: 264bhp at 6,500rpm, 261 lbs/ft at 3,900rpm, 0-60mph in 4.7 secs, 0-100mph in I 1.9 secs and a 164mph maximum speed. The Esprit had become a true supercar.
These figures weren't generated by a new engine, but a highly refined and developed version of the venerable 2.2-litre straight-four, making it the most powerful 16-valve engine in the world at 121.5bhp per litre. The only major internal change to the engine were Mahle-forged pistons with chrome-plated crowns running at an 8.0:1 compression ratio, although items like the induction system and the (catalysed) exhaust were updated. The massive power increase was mainly due to a sophisticated MPFI system and a charge-cooler.
The MPFI system was controlled by a fully adaptive Delco Electronics ECM which 'learnt' the precise engine demands for each journey, according to ambient temperatures, engine loads, fuel used etc. as well as controlling the quartet of Multec fuel injectors. The injectors normally pulsed once every engine revolution, with half the fuel requirement for each cylinder's combustion being supplied by each pulse ('alternating double fire'). At very low injection rates the system automatically changed to alternating single fire to maintain a minimum injection period for accurate fuel flow. At very high engine loads additional fuel flow was provided by two secondary injectors positioned in the plenum nozzle.
A liquid-cooled charge air-cooler was selected to reduce the turbo-charged air temperature and, to put it simply, ram more into the combustion chambers. The engine-mounted charge-cooler connected the turbo compressor directly with the plenum nozzle. Consisting of a series of liquid and air passages with internal finning, the cooling liquid was circulated through the cooler by a pump driven off the distributor shaft and thence to a front-mounted radiator. This system was independent of the engine's own coolant network.
The conventional coil and distributor were replaced by a direct ignition system with two separate ignition coils, while a block-mounted knock sensor retarded the spark if detonation occurred. If the detonation continued for more than two seconds then boost pressure was automatically reduced.
Under normal circumstances the Garrett TBO3 turbo blew at 12.4psi, but during hard acceleration below 3,000rpm over boost cut in for up to 30 seconds for even more rapid progression. The new Esprit duly stunned the motoring press. Richard Bremner wrote in Car; "In the roll-call of supercars, the Lotus Esprit Turbo can suddenly stand proud. It now has the horsepower and performance not merely to stand comparison with Porsche 91 I s and Ferrari 328s, but to embarrass them, too'~
For MY '91 Lotus went all-turbo, dropping the normally-aspirated base Esprit from the UK lineup. The mid-range turbo was, in fact, the fuel-injected 2,28bhp model that the Americans and Europeans had enjoyed for some time. Following the introduction of the charge-cooled Esprit, Lotus undertook a racing programme in the American SCCA World Challenge Series for sports cars. In addition to the lighter bodyshell, the competition SE'S engine power was further increased to 300bhp thanks to a reworked cylinder head, a larger Garrett T4 turbo, larger injectors, a recalibrated engine management system and a bigger charge-cooling system created by integrating it with the redundant air-conditioning radiator. The power increase was impressive: 300bhp at 600rpm, an estimated 261 lbs/ft at 3,900rpm, a claimed 168mph max and 0-60mph in 4.4secs.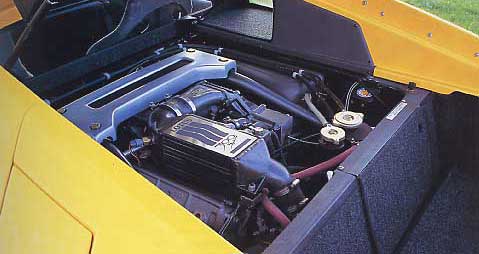 How much more power can Lotus extract from its venerable 2.2-litre engine? In Sport 300 guise a re-worked cylinder-head, hybrid turbocharger, an enlarged chargecooler and revised engine management system pushed out put up to 300bhp giving the car a 167mph top speed. (Focalpoint)
Eventually this engine found its way into the limited edition Sport 300 which appeared at the 1992 Birmingham Motor Show. Despite the engine's advanced years and growing press criticism — "the Esprit's snarling slant-four sounds hard-edged and coarse, even metallic when idling" (Roger Bell in Car) — Lotus reaffirmed its faith in the 22 year-old engine when, in early 1993, they revealed the Esprit S4, simultaneously announcing that the 264bhp engine benefited from all new castings for the block, head and sump for increased stiffness and cooling capacity. The Turbo's engine management system was also re-mapped for improved response and driveability, although power and performance figures remained unchanged over the original charge-cooled Esprit. A two-litre, tax-breaking version producing 186bhp was also built for the Italian, Greek and Portuguese markets.
As the years slip by and more rival sports car producers abandon the turbo concept in preference to six- or eight-cylinder normally-aspirated engines, it is difficult to see just how Lotus can maintain its present position with a small-capacity four which, for all its sophistication, has to work very hard for a living. Perhaps Lotus will have to turn to a major supplier for its next engine block and develop their own heads etc. If that transpires then the circle will have been completed, but en route will be the legacy of a truly fine engine that became a benchmark for prodigious specific output from a small capacity.

Taken from 'Lotus Heritage' by Ian Adcock
Available from Amazon.co.uk