Giorgetto Giugiaro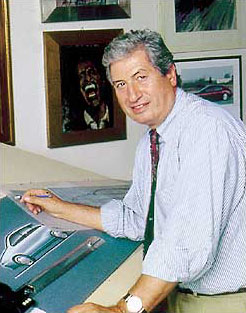 Guigiaro is regarded as one of the greatest Automotive Designers of the 20th century. He has designed cars since the late 1950's and was responsible for the design of the Lotus Esprit. Born on 1938 in North West Italy, his father was an Artist and his grandfather painted church frescoes. So he trained as an Artist too. After moving to Turin, Giugiaro switched from being an artist to a Technical Design. At the age of 17, he started working at the Italian motor company Fiat, working in the Design Department. However, he found it difficult growing within the company. So, in December 1959, he moved jobs, to the Bertone styling studio and became Head of Design. In 1965, after six years, he join the management of Ghia. It was there he designed his first masterpiece, the De Tomaso Mangusta. This car was a turning point in car design, with smooth and clean lines.

1966 De Tomaso Mangusta
In February 1967, Giugiaro founded his company, Ital Design. Initially the company concentrated on designing Prototype and Concept cars. It made it's debut at the 1968 Turin Motor Show, with the Bizzarrini Manta prototype.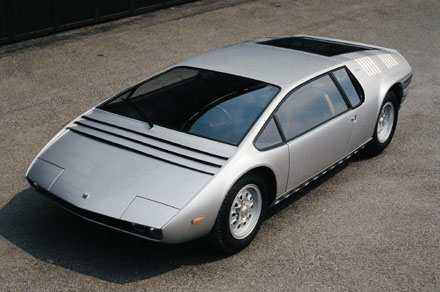 1968 Bizzarrini Manta (Click on image to enlarge)
The company was commissioned to design more concept cars from other Manufacturers. He worked for Alfa Romeo, designing the Iguana in 1969 and for Porsche in 1970, designing the Porsche Tapiro (below). Giugiaro began the "folded paper" era, where cars took on sharp edges and elegant clean lines.

1970 Porsche Tapiro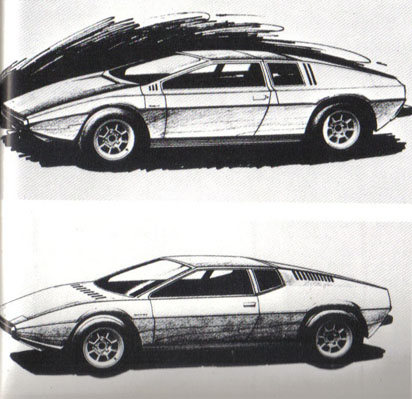 Giugiaro's 1971 Lotus Esprit sketches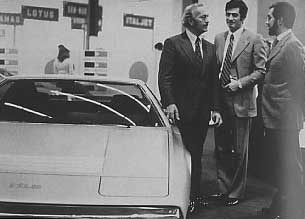 Colin Chapman and Giugiaro next to the Lotus M70 Esprit
In 1972 Giugiaro designed the Lotus Esprit. Above are a selection of his first sketches for the Esprit. He used the Porsche Tapiro as a template to design the Esprit, tracing over the Tapiro; note the wheels, the valve and shadow in the same place
Also that year he designed the stunning Maserati Boomerang. Both the Esprit and the Boomerang were displayed together at the Turin Motorshow in 1972.
1972 Masarati Boomerang (Click on images to enlarge)
As the company developed, it designed mass produced cars, designing over 100 different models. These including the VW Golf and Lancia Delta. He later introduced the trend toward higher cars with the Fiat Panda and Uno, which have greatly influenced modern car design. In 1974, Giugiaro diversified Ital Design and set up a Product Design division. This department has worked on products for Nikon, Apple Computers, Seiko Watches and cosmetics for L'Oreal, as well as designing in furniture. He has won may awards for his achievements. His greatest award has to be the "Designer of the Century" Award, in 1999, which he received in Las Vegas.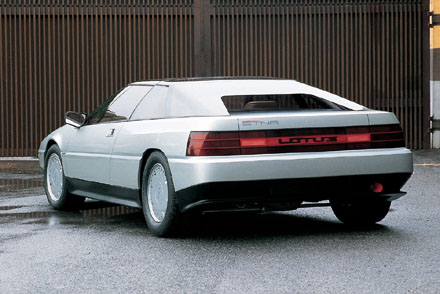 1984 Lotus Etna (Click on image to enlarge)