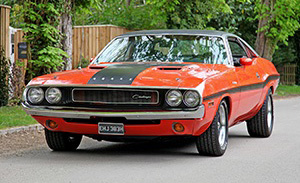 Click on all photos to enlarge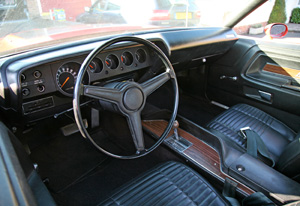 Interior of the Challenger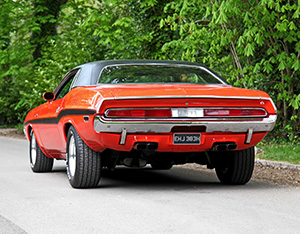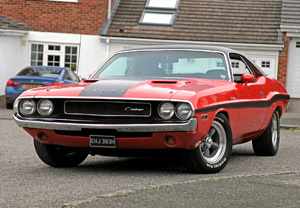 Dodge Challenger 340 4 barrel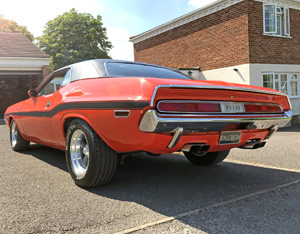 Rear view of the car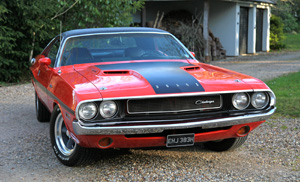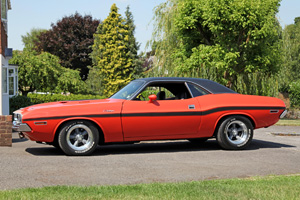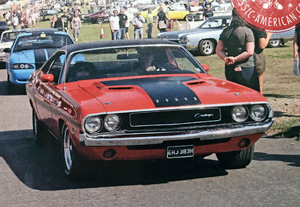 Classic American mag June 2019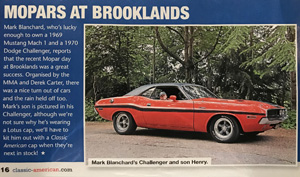 Classic American mag July 2019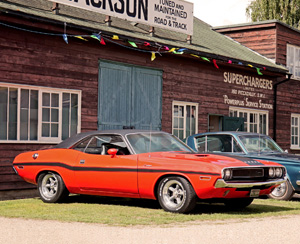 Brooklands American Day
Hi, my name is Mark and here is a page on my Dodge Challenger 340 4 barrel A66. It is finished in Hemi Orange paint with black upholstery. The Challenger is a matching numbers car and has the original 340 V8 engine with a Edelbrook Performer carb. The 340 came as standard with the A66 Performance Pack, which included heavy duty suspension, 340 engine (E55), E60x15 inch raised white letter tires (U82), performance hood, heavy duty brakes, heavy duty suspension (S13), Bumble Bee paint stripe (may be deleted), Scat Pack (bee) decal and the wheel lip moulding were deleted.
The A66 was basically an R/T with a small block 340 engine.
This Challenger has spent most of it's life in the USA and was imported to the UK in 2005.
The car was fully restored in the States, including a body off restoration and an engine rebuild. It is in excellent condition.

September 2018
A service was carried out by Tornado Automotive. They also fitted a new steering coupling and 2 new propshaft U/Js.
October 2018
The Challenger was smoking on start up, so it was decided to carry out a top engine rebuild. After taking the heads off, it was clear the valves and guides were all new so the engine had been rebuild recently. And the head didn't need skimming either. However the valve stem seals were missing when the previous rebuild was carried out, so these were reinstated.
A none disignated side stripe was also fitted. I thought long and hard about it as it's none original to teh A66, but I think it improves the looks.
November 2018
I fitted a high quality Sony stereo to the Challenger, with Pioneer parcel shelf speakers. Sounds superb!
December 2018
Christmas arrived and I was given nice new American Racing alloy centre caps. The look much better than the existing plastic metalized ones.
January 2019
I primered and spray painted the front grill and head lamp surrounds satin black, as I didn't think the argent silver grill suited the car. 4 coats of primer and 4 coats of satin black. The head lamp surrounds were finished in satin black Hammerite to protect them from stone chips.
March 2019
The Challenger was taken to Tornado Automotive as there was a fuel leak. This was caused as the grommet from the fuel pipe to the tank had perished. A new grommet and sender were fitted and no more leaks. New front brake lines were also fitted. The drum brakes also had surface corrosion on them so they were shot blasted and resprayed satin black. The engine air cleaner was also restored. It looks much better now!
April 2019
I took the Challenger to a car show in Surrey called Wheels Day. The car gained lots of attention and was photograghed and shown in the June edition of Classic American Magazine.
May 2019
II took the Challenger to Brooklands Mopar day, a great car show and and Classic American magazine again featured the car in it's July edition.
August 2019
The fuel line to the carb was replaced, as it was looking old and perished.
September 2019
I restored the radiator, as the black paint was peeling off, exposing the metal beneath. I used wet and dry sand paper to remove the old paint and then a couple of coats of Frosts radiator paint. It's come up a treat and makes the engine bay look much better.